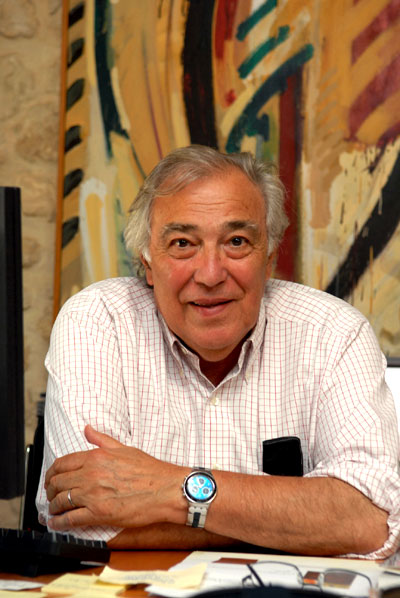 Photo provided to China Daily
Jean-Michel Cazes is perhaps the most influential man in Bordeaux wine. He got a late start in the wine business: At the age of 38 in 1973, after working as an engineer and IBM executive, he returned home to Chateau Lynch-Bages in Pauillac.
He has boosted fifth-growth Lynch-Bages to second-growth level in both price and quality. Today, his influence - and his passion for life - is felt around the globe.
Almost 25 years ago, when my wife and I traveled to Beijing for the first time, we couldn't hope that fine wine would become so popular in such a short period of time.
Our friend Johnny Chan, a wine pioneer in Asia, whom we had met when he started the Hong Kong Wine Club, had helped us organize our program. Although our main purpose was openly touristic, we had brought along a few bottles of our wine. We decided to rent a booth at a food festival and, during two full days, between a drive to the Great Wall and a visit to the Forbidden City, we offered the public a discreet Lynch-Bages tasting.
The very taste of red wine was foreign to our audiences. Passers-by would stop, stare and accept a taste, but would not bother to conceal their disgust for the tannic beverage that we presented them. Nevertheless, we had fallen in love with the country during this first visit. And with each subsequent visit, we observed that wine awareness was making rapid inroads in the country, driven by health consciousness and education. New actors were investing in the wine scene with much enthusiasm. Global wine knowledge was increasing rapidly. An original "art of drinking" was appearing gradually in China as it had in France and particularly in Bordeaux over the last four centuries.
For the French, wine long ago joined bread to become the basis of all nourishment, the essential beverage. We drink wine during our meals, when it is both necessary and wonderful. Matching wine and food is sometimes considered an art form. But it is an art which is easy, and open to all.
A successful reunion needs some planning ahead. Assembling the right blend of guests is important, and requires attention. Like wine, people may be "acid", "sweet", "bitter" Be aware that the pleasure of wine can feed passion around the table. Gathering people who have in common a true love for food and wine is the right recipe for a successful experience.
When it comes to wine, I like to be curious and inventive and do not shy away from new experiences.
With the many wonderful dishes of Chinese cuisine, which present a world of richness and subtlety, I never hesitate to serve different wines. They are the stars of the show: alive, maturing, blossoming or fading. If time permits, I have the older bottles rest upright one day before the meal (old wines, especially those made with cabernet sauvignon grapes, produce sediment as they age. The sediment will rapidly settle to the bottom where it remains after the wine is decanted). I make sure they are not too warm or too cold, for wines must be served at the right temperature.
I carefully choose the glasses. My preference goes to simply shaped wine glasses, made of transparent and thin glass or crystal. Finally, decanting the wine at the right moment, just before drinking, will give it some air, develop its perfumes and maximize the drinking pleasure.
Each occasion has its particular logic. Why not start a meal with the oldest or the rarest bottle on hand? The first wine is important. It opens the appetite and triggers the conversation. Served before the meal has really begun, it also comes at the most favorable time, when everyone is physically and intellectually alert, with fresh taste buds and acute sensation. Personally, I love to begin with an old bottle of our Chateau Lynch-Bages. Older bottles, the only time machines that really work, will spark ancient memories.
Every bottle contains a new experience, ready to escape at the first occasion. Trust your palate, and enjoy.