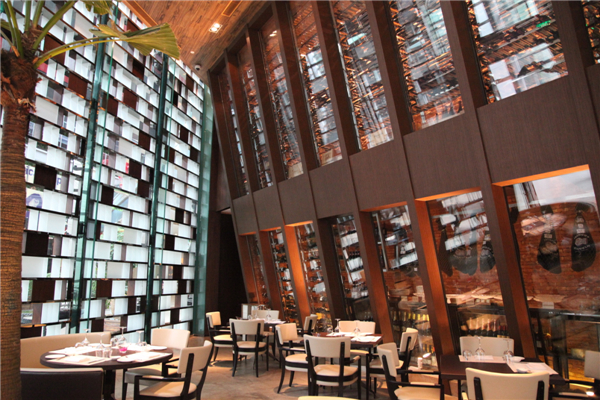 Opera Bombana's alry dining room has a view of the extensive wine cellar. Photos by Fan Zhen / China Daily
Chef Umberto Bombana's magical mushroom creations give glow to his three Michelin stars. Mike Peters takes the taste test.
It's round and black and big as a bowling ball - at 620 grams it looms like the mother of all fungi.
Chef Umberto Bombana carries the massive specimen of Milano sporum, or black winter truffle, out of the kitchen on a silver platter. Other vegetables on the tray are mere mortals in this company.
Foodies on two continents know that Bombana and truffles go together like Rogers and Astaire. Love and marriage. Yin and yang.
He has hauled this Australian specimen to his brand-new Beijing restaurant for what amounts to show-and-tell. It's enough truffle to festoon an army of salads, if the chef could bear to diminish it.
Bombana, however, has enough smaller truffles to feed everyone who comes to the Truffle Weekend event, so the megatruffle will probably go back home with him to Hong Kong intact.
When a chef who owns three Michelin stars appears at a new restaurant in Beijing, the first question is usually: "Is China ready for such food?"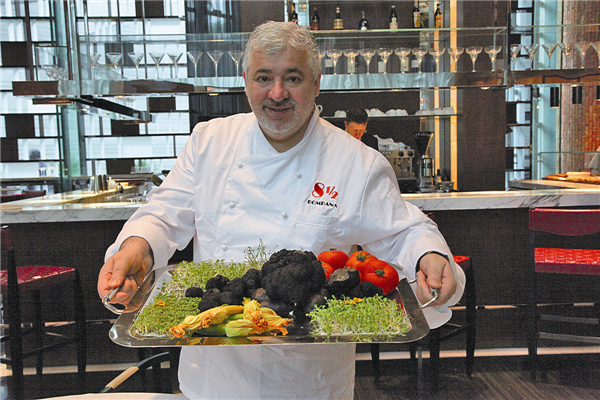 Chef Umberto Bombama with a monster black truffle: "I wanted to bring it here to Beijing to show everybody because it's very beautiful."
But the 50-year-old Bombana is not a fly-by celebrity, sprinkling his fairy dust in a top Chinese kitchen for a few weeks and then winging back to preferred climes in Europe.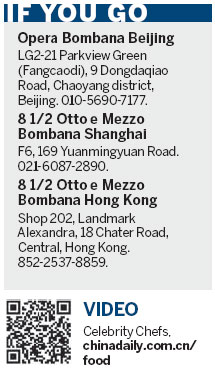 Opera Bombana is his own restaurant - his third in China - and he has been cooking up Tuscan wonders for Chinese palates since he arrived in Hong Kong in 1993.
"Good food is something everybody enjoys; it's a simple as that," he says, shaving slices of truffle over roasted veal at our table to release a sublime, earthy scent.
"People want to experience it, have a wonderful dish. So of course I am confident about what I am doing here. If you do something well, that's well-prepared and very flavorful, everybody likes it, from a child to a grandfather."
Hong Kong, where his Toscano restaurant in the Ritz-Carlton hotel won accolades for 15 years, was easier to break into 20 years ago because it's such an international city.
"You have a lot of people there who travel, they have been dining in New York and Milan, so they know great food and they expect great food."
But he thinks a long history has given all Chinese "a great palate".
"They have many special techniques and everything tastes quite nice," he says.
"So if you do prepare something well, they appreciate it."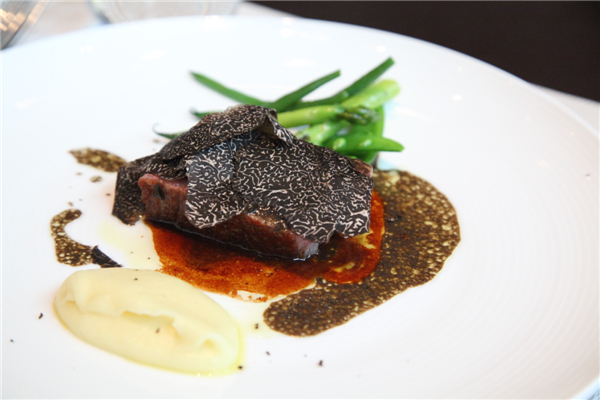 The chef chose Italian white veal for his truffle-dinner course.
A native of Bergamo in northern Italy, he was trained at Centro di Formazione Alberghiera and apprenticed under Ezio Santin at Antica Osteria del Ponte, now a Michelin-starred restaurant outside Milan.
In 1983, he joined the famous Rex Il Ristorante in Los Angeles, where he became a star for his simple yet refined regional cooking. The restaurant is a mainstay for post-Oscar parties. By the time he arrived in Hong Kong in 1993, his name was becoming synonymous with "truffle".
Bombana was named the Best Italian Chef in Asia by the Italian Culinary Institute for Foreigners in 2002, "King of the White Truffle" in the food-and-wine press, and Worldwide Ambassador of the White Truffle in 2006 by the Piedmontese regional Enoteca Cavour (Italy).
When the Ritz-Carlton closed for relocation in 2008, Bombana was in transition, too. It was a break from the everyday rush, but he didn't feel he had much time to re-assess his vision.
"At that moment, a lot of great chefs were coming to Hong Kong, new products were available, and it was becoming more and more of a gourmet city," he says.
So the challenge continued to be: Pursue the best, the freshest ingredients - and still keep the natural taste, the traditional Italian flavor.
"You are always trying to achieve beyond your limits, you know ?"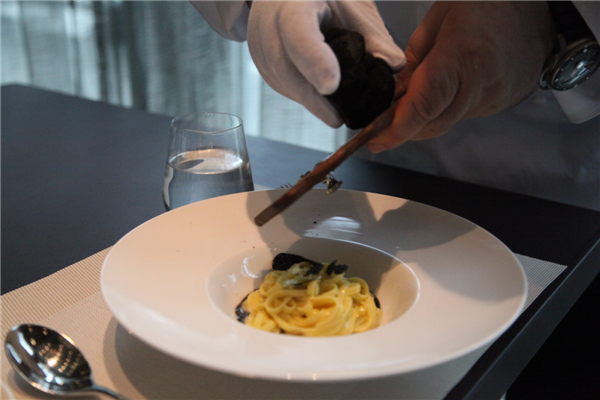 Bombana shaves some black truffle onto a pasta plate.
"For example, I think it's fantastic to have the black winter truffles with the summer vegetables," he says, referring to the special menu he presented in Beijing last weekend.
"In the past, you only had black winter truffle in the winter, so you had to have it with the winter vegetables - celery root, this kind of thing."
After launching The Drawing Room restaurant with chef Roland Schuller in 2009, Bombana began to mold Otto e Mezzo, his most personal project ever.
The name, which means 8 1/2, came to him suddenly.
"Fellini's 8 1/2 is considered to be one of the top 10 movies ever produced. Fellini as an artist in general - not just a movie director - really fascinates me."
The film is a reflection on creation, Bombana says, and it came out in 1963, when a lot of things were happening in the cultural and economic life of Italy. "It was a very positive time, so I dedicated the name of the restaurant to Fellini."
His goal, like Fellini's is to deliver an unforgettable artistic experience, an effort that was recognized when the Hong Kong restaurant won two Michelin stars within a few months of opening, and a third star in 2011.
In November 2011, Bombana hosted the Hong Kong bidders for the annual World White Truffle of Alba Auction, an event linked by satellite to the Italian auction grounds.
Since then, another Otto e Mezzo has opened in Shanghai, and now Opera Bombana - an airy, more casual incarnation that also includes a bakery.
And occasionally, a truffle show.