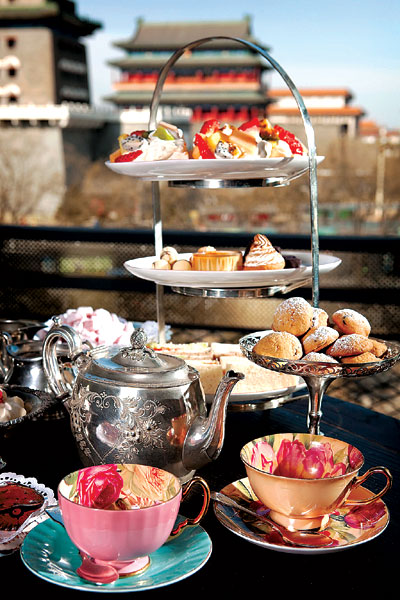 Capital M
Speaking of the center of Beijing, where else can one have an unobstructed view of Qianmen gate and Tian'anmen Square? The restaurant provides its own blends of teas, as well as the most classic Chinese options. Desserts range from simple scones to a complete selection of pastries, popular sweets like the chocolate tart and a famously delicious pavlova. Photos Provided to China Daily
Gentle sips and accompanying sweets provide East-meets-West moments in the afternoon. Ye Jun reports.
Most people would call afternoon tea an English tradition. But in the capital city of China, the home of tea, there are many lovely variations of this way of relaxation. Some offers Chinese tea and Chinese dim sum. Most others offer both Chinese and Western teas and other refreshment. The Peninsula Hong Kong is famous for its afternoon tea, which has more than 80 years of history. You need to reserve a long time in advance for it.
And you always can see celebrities and entertainment stars there. At the same time, afternoon tea at The Peninsula Shanghai is getting quite popular, too - though it's a tradition still in development in Beijing, according to Mary Li, club manager with The Peninsula Beijing. On the other hand, other hotels see busy flows of guests at their afternoon-tea venues. Here are our picks of the top five afternoon teas in the capital.
The Writers Bar, Raffles Beijing
Afternoon tea is surprisingly serene here in the very center of the city, next to Chang'an Avenue.
French restaurant Jaan and The Writers Bar share an old timber-sprung dance floor and crystal chandeliers, and historic pictures recall the days when the first generation of Chinese leaders entertained their guests here. The 100-year-old venue is recognized as a cultural relic site by the Beijing government.
Hotel executive chef Christian Rose scouted The Savoy Hotel in London in order to make his high tea typically British.
But he has also designed a Chinese afternoon tea set featuring some typical delicacies of the country: egg tart, custard puff, chicken and shitake mushroom wrapped in tofu skin, and old Beijing dim sums such as yellow pea cake.
There is also a children's afternoon tea option. With ice cream pralines, marshmallows, mini hot dog and fish fingers, you can often see parents tempted to have a bite.
Garden Lounge, The St. Regis Beijing
The story of the hotel's afternoon tea dates back to Mrs Astor's legendary afternoon tea at the St. Regis New York. With a very rare high roof and a great view of the garden, the Beijing hotel has become a regular meeting place for business people. The hotel's Press Club Bar is one of the oldest in the city.
Presenting Western dim sum in Chinese-style baskets, hotel sous chef Song You also recommends 100-percent cocoa chocolate tart, lemon-flavored cheese cake, and probably Beijing's best-tasting scones with clotted cream and fruit jams.
An extensive tea menu has China's best leaves: West Lake's longjing, Suzhou's biluochun, jasmine tea, Taiwan's oolong and Fujian's heavily baked "bright red gown".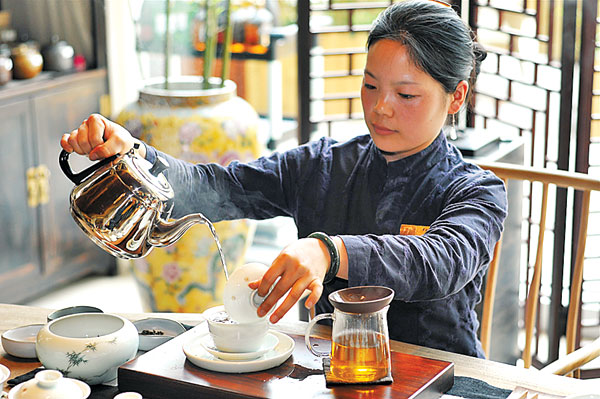 Photo provided to China Daily
Pangu 7 Star Hotel Beijing
Located just next to the Water Cube and the Bird's Nest, China's National Aquatic Center and National Stadium, the hotel's lobby is decorated in a very Chinese style. There are ancient Chinese paintings, traditional furniture and music performed on the Chinese traditional instrument pipa.
The teas are brewed by professional tea sommeliers. They serve the very best raw pu'er from Yunnan, baked oolong from Fujian, and a sweet and aromatic Guangdong oolong.
The dim sum platter has the best of Cantonese - lobster dumpling, prawn shaomai, crispy tart with mashed jujube.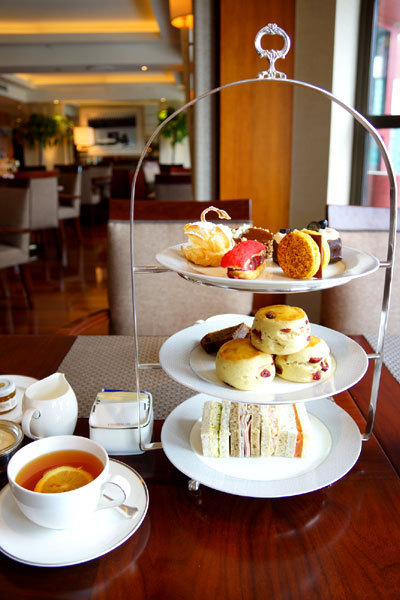 Photo provided to China Daily
The Peninsula Beijing
The arrival of French pastry chef Yannick Oppermann has just upgraded the hotel's high-tea pastry to literally the best in Beijing. The chef joins the tea as new executive pastry chef from two-michelin-starred restaurant Spoon by Alain Ducasse. His style is to take a very classic dessert and give it a new look.
Highlights are a puff that looks like a swan, an elegant and tasty macaroon made with milk-chocolate chips, and a beautiful raspberry eclair topped with raspberry crumble and raspberry cream in between.