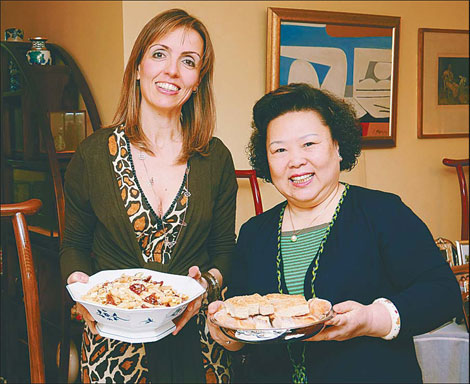 The friendship between Katerina Stai Failadis and Han Ping is built on their love for food. Photos by Ye Jun / China Daily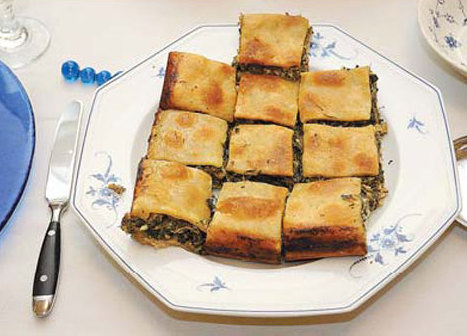 Spinach pie is a traditional Greek dish.
A Greek foodie finds a soulmate in China, and they team up with delicious effects, Ye Jun reports.
When you put together two lovers of the culinary arts, from two great food traditions, you could expect an explosion of creative cooking - and a great friendship in the bargain.
Katerina Stai Failadis is married to the press officer at the Greek embassy in Beijing. Han Ping, a Beijinger, is guest hostess of a food program on Beijing TV. They met at a cooking program in which diplomats from different countries presented their home cooking.
It seemed impossible for them to communicate - Failadis does not speak Chinese, and Han does not speak Greek or English. But after teaming up a few times on TV, they are now good friends despite the language barrier.
They communicated through cooking. Failadis taught Han how to make Greek salad. Han taught Failadis how to make dumplings, and traditional mooncakes for Mid-Autumn Festival. Soon the Greek woman came up with her own version.
Failadis used olive oil in the dumplings to add a distinctive flavor. She combined mooncakes with her grandmother's recipe of the Myconean homemade almond cookies.
"For Chinese friends who tried them it was a pleasant surprise," she says. "They loved them!"
Han comments: "Her dumplings have a Mediterranean flavor, and she brings a fresh taste and a healthier option combining new elements to Chinese mooncakes."
Failadis didn't cook for most of her life, but she taught herself after she got married 12 years ago. Since she and her husband came to Beijing in 2008, she has been doing all the cooking at home, preparing formal and informal meals, sometimes for as many as 40 people.
"I don't like ordering from outside," she explains, conceding that cooking for a crowd is a lot of work. "But I like it. I do it with all my heart."
Christos Failadis says his wife's cooking was a "pleasant surprise" to his family and friends. As her repertoire gets larger, he says she has proven the proverb "the way to a man's heart is through his stomach".
A typical menu includes stuffed grape leaves with rice and raisins, spinach pie, Greek salad, pork and beef kebabs, penne with dried tomatoes, traditional cookies with honey and walnuts, and baked strawberry and pear with cake crumble. All of that is accompanied by homemade fruit wines.
Coming from the Greek island Mykonos, Katerina Stai Failadis was a philologist and teacher before she married.
"I was born and raised in a family that loved good food, measuring always the taste, quantities and combinations," Failadis says. "I'm not a professional chef, but I have love and passion for cooking."
As the wife of the press and communication counselor with the Greek embassy in Beijing, Failadis was inspired by her husband to promote Greek olive oil and products in China.
"I noticed some of my Chinese women friends were interested in learning how to use olive oil for cooking," she says.
So she started to give cooking demonstrations at home to Chinese mothers of her son's classmates at school. She also spent a year to establish a website, www.oliveoil-culture.com, to showcase Greek cooking, using her homeland's olive oil.
"With the exception of sesame oil, olive oil can replace other oils, even for frying, and it's healthier," she says.
"I think Chinese cuisine is very philosophic. They use a lot of vegetables. That's why I want to promote olive oil here," she says, convinced that she's got a winning combination.
As a lover of Chinese tea, Failadis says her idea is to "cultivate an olive oil culture like the tea culture", because both have great historical and cultural background.
"We have come from two distinctly different cultural backgrounds," Han Ping says. "But a common love for cooking has drawn us close."
Failadis recently learned several more classic Chinese dishes from Han, including Beijing-style noodles with fried brown sauce, and fried potato slices. Han says she would like to learn how to make stuffed grape leaves with rice and raisins from Failadis.
The two worked together to compile a recipe book of not only Greek foods, but also two traditional Chinese foods - mooncakes and dumplings - using olive oil.
It is one issue of a quarterly magazine published by the Greek embassy in Beijing, a publication designed to introduce Greek culture to Chinese people.
Christos Failadis says he has noticed that Greek and Chinese people have a lot in common. Both love good food, and sharing a good meal with one's family.
After five years in Beijing, the Failadises are about to move on to their next post in another country this summer.
But Katerina Stai Failadis says she will continue to promote culinary arts from her new home - this time, not just Greek food but Chinese as well.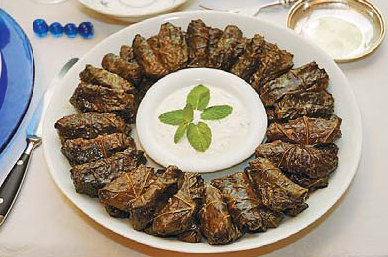 Recipe |

Dolmadakia Yalantzi (stuffed grape leaves with rice and raisins) Ingredients:

250 g grape leaves (fresh or canned)

1 cup olive oil

1 big onion, chopped

100 g spring onions (chives), chopped

1 cup uncooked rice (Arborio rice, for risotto)

1 bunch of parsley, chopped

1 bunch of dill, chopped

2 tbsp fresh mint

2 tbsp small black raisins (currants)

2 tbsp pine nuts

Juice of 1 lemon

Salt and pepper

Method:

Mix rice, chopped onions, chive, parsley, dill, mint, 1/2 cup of olive oil, currants, pine cone seeds, salt, pepper, a little sugar and half of the lemon juice.

Rinse the grape leaves in cold water. If fresh, drop them in boiling water and boil for three minutes. Strain and rinse in cold water. In the center of each leaf (shiny surface of leaf downward) place a heaped teaspoonful of the filling. Fold ends of leaf over the filling and roll up leaf.

Place Dolmadakia side by side in layers. Sprinkle with the rest of the lemon juice, 1/2 cup of olive oil and 2 cups of hot water.

Place a plate over Dolmadakia to prevent them from opening, cover and boil over simmering heat for about 40 minutes.

Allow to cool in the saucepan. Serve them as a cold entree with yoghurt or as an appetizer.