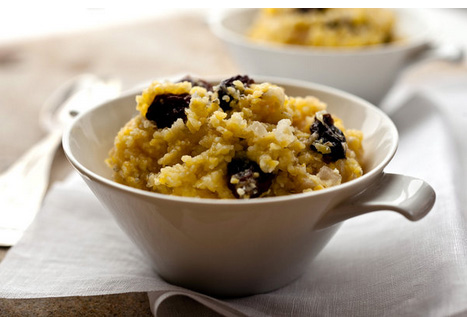 Greek polenta with onions and raisins [Photo/The New York Times]
170 grams (1 cup) coarse-ground cornmeal or polenta
1 quart water
Salt to taste (3/4 to 1 teaspoon if you are not on a salt-restricted diet)
2 tablespoons extra virgin olive oil
1 medium red onion, finely chopped
1 tablespoon unsalted butter
75 grams (1/2 cup) dark or golden raisins, plumped for 10 minutes in warm water and drained
2 ounces feta, crumbled (optional)
1. Preheat the oven to 350 degrees. Combine the polenta, water and salt in a 2-quart baking dish. Stir together and place in the oven. Set the timer for 35 minutes.
2. Meanwhile, heat the olive oil over medium heat in a skillet and add the onion. Cook, stirring often, until thoroughly tender, 5 to 8 minutes. Remove from the heat.
3. After 35 minutes, remove the polenta from the oven and stir in the onions, raisins and butter. Use a fork or a spatula to stir the polenta well, and return to the oven for 15 more minutes. Remove from the oven and stir again. Carefully taste a little bit of the polenta; if the grains are not completely soft, return to the oven for 10 more minutes. Serve right away with the optional feta sprinkled over the top.
Yield: 6 servings.
Advance preparation: If you want a creamy polenta you must serve this right away. However, you can also cut the cooled polenta into squares and brown them in a little olive oil or heat in a medium oven. The polenta will keep for 3 days in the refrigerator.
Nutritional information per serving (6 servings): 184 calories; 2 grams saturated fat; 1 gram polyunsaturated fat; 4 grams monounsaturated fat; 5 milligrams cholesterol; 31 grams carbohydrates; 2 grams dietary fiber; 299 milligrams sodium (does not include salt to taste or optional feta); 2 grams protein