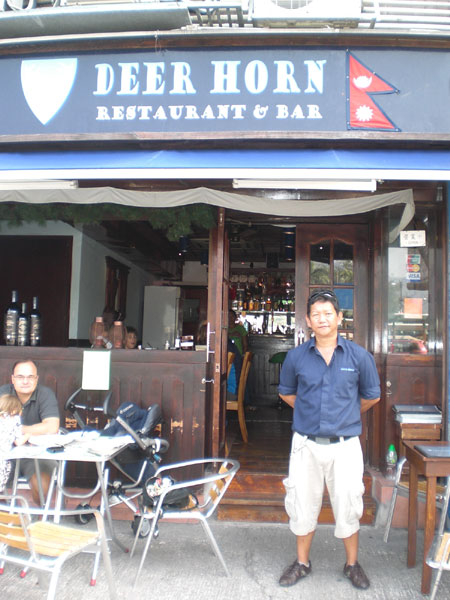 Robinson Gupta, owner of Deer Horn, offers momos and more. [Photo by Donna Mah/China Daily]
The only "momo" I had heard of before entering this Nepalese restaurant were the famous white peaches with the same name from Okayama prefecture, Japan.
The other thought was, "Nepalese? I thought this was a British pub." Fortunately, the food here at the Deer Horn, in Mui Wo on Lantau Island, is delicious - especially the momos, or Nepalese steamed dumplings.
I love dumplings. I will eat them at almost any opportunity, be they Italian ravioli, Chinese jiaoji, Japanese gyoza, or Ukrainian perogies.
Order your momos stuffed with chicken, lamb or vegetables. All momos are served with a homemade dipping sauce made of roasted soybeans, garlic, onion and tomato. The sauce is a bit nutty, slightly tangy - and flavorful.
My favorites are the lamb momos, which are served on Friday nights for HK$85 ($11) and come with a bottle of Gokha (Nepalese) beer.
All the momos are slightly spicy, and for vegetarians the vegetable momos are a really satisfying treat. The flour wrappers are thin with just the right amount of softness and chewiness.
As for the Nepalese, Italian, and British combination of dishes on the menu, it became clear as we sat that the restaurant has a mixed clientele of regulars who come in for the beer and momos, hikers enjoying a meal before their ferry ride back to Central, as well as a lot of families.
The non-spicy dishes, including pastas, salads, fish and chips and chicken cutlet, are popular with the kids as well as those who cannot take too much spice.
Cheese made from the milk of yaks that graze on Himalayan alpine pastures also features here. Served either in unadorned slices or as fritters, this mildly flavored cheese can be enjoyed with a fresh crisp Greek salad or as a starter.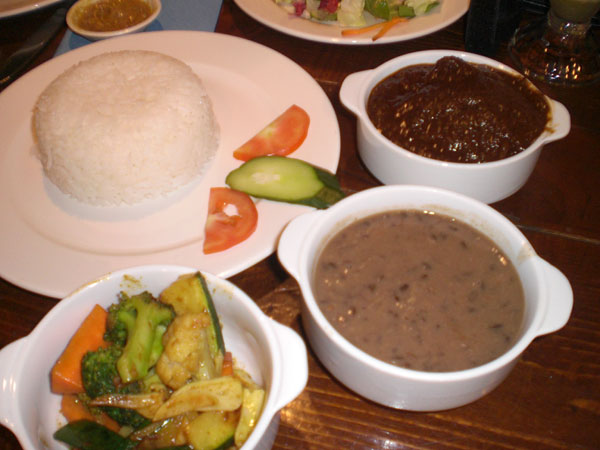 A Nepali Khana set includes curried meat and spicy sauteed vegetables served with rice.[Photo by Donna Mah/China Daily]
Owners Pushpa and Robinson Gupta tell me that the cheese is organic and is common in Nepalese food. Pushpa is the person who introduced me to lamb momos and for that I will always be grateful. They have become one of the comfort foods I crave from time to time.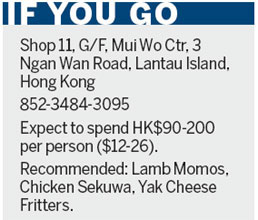 Popular Nepalese meals served here offer grilled boneless chicken (kukhura ko sekuwa) or lamb (khasi ko sekuwa) with rice or bread, or a Nepali khana set which includes curried lamb/chicken/beef, and spicy sauteed vegetables served with rice.
The curried lamb in a mildly spiced dark brown sauce is tender, flavorful and delicious with the rice.
The favorite is the grilled boneless chicken, seasoned with Nepalese spices including cumin, tumeric, garlic, ginger and chilies, and grilled until tender and juicy.
With a small outdoor seating area right by the Mui Wo ferry pier, and its extensive menu of spicy and non-spicy dishes, the Deer Horn is a family-friendly restaurant as well as a good place to hang out after a hike on Lantau.