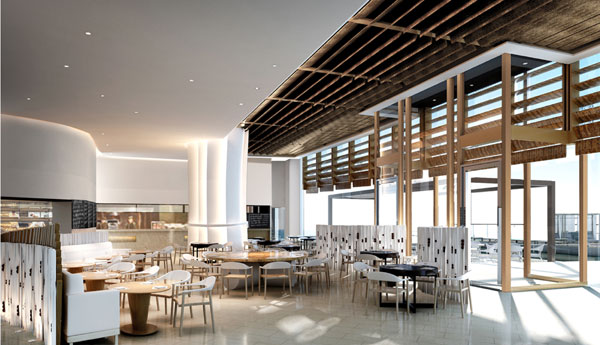 Cafe bord de Mer, with a floor to ceiling view of the sea, is surrounded by nautical themed decorations. Provided to China Daily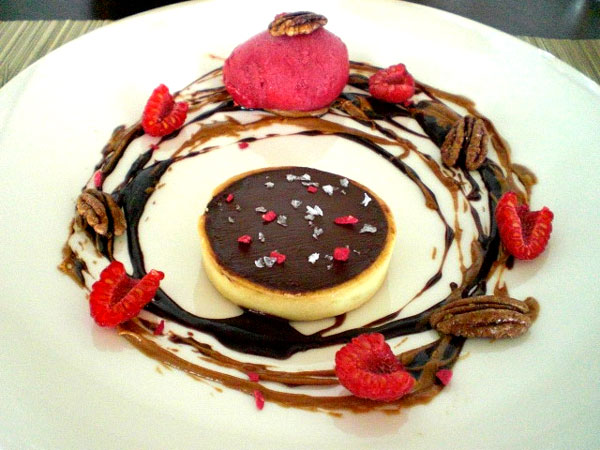 Valrhona chocolate truffle comes in a tart shell sprinkled with dried raspberries. Donna Mah / for China Daily
School summer holidays have started for some students, while for others they don't begin until mid-July.
For students, holidays mean days filled with summertime activities including lots of time outdoors. For parents, they mean coming up with activities that are fun and entertaining for the kids and perhaps a little educational as well.
Parents may also need a few tips about where to dine out with their little ones so I'll be visiting restaurants with a young dining companion to see how child-friendly they are.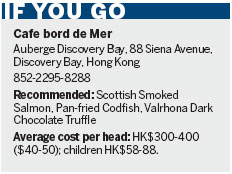 On a recent visit to the new Auberge Discovery Bay hotel, my four-year-old daughter and I dined at Cafe bord de Mer with it's floor to ceiling view of the sea and The Bounty, an impressive European tall-ship, a full-scale replica of the original 18th century H.M.A.V. was anchored nearby.
The surroundings were definitely nautical themed, with lots of seashell motif cushions, real seashells, and a relaxing sandy color palette with blue accents.
Discovery Bay is located on Lantau Island where the airport and Disneyland are also found. If you plan to come from Hong Kong Island, take a 25-minute ferry ride from Central Pier 3 and then a bus to the hotel. If you plan to come by land, take the MTR to Tung Chung and then take a 10-minute bus ride to Discovery Bay north.
For kids, the restaurant provides plastic plates, bowls, and cutlery. The children's place mat has the children's menu on one side, and games and coloring activities on the other.
Kids can order from a fairly extensive menu with items like Pirate Surprise of chicken, macaroni, and vegetables in chicken broth; Pinky Dolphin's Delight mini burger and french fries and Captain's Orders of garoupa fillet, sweet creamed corn, and steamed rice.
My daughter chose the Captain's Orders as she loves fish and rice. Her meal arrived in a boat-shaped ceramic dish with three generous pieces of battered deep fried fish and a side salad of mixed greens.
Perhaps a side of steamed vegetables would have been a better choice for my daughter as she is more familiar with steamed broccoli or carrots. Overall, she loved the crispy and tender fish, the sweet corn and the rice.
The "adult" meal was one of the restaurant's signature dishes. The starter was a Scottish smoked salmon with buckwheat potato waffle with creme fraiche, capers and chives.
The thick, luscious slices of smoked salmon were topped with finely chopped capers, chives and boiled egg, and paired well with the thin buckwheat potato waffles.
The pan-fried codfish with saffron risotto, razor clam tartar, black mussels, edamame and Pernod foam arrived with the razor clam resting on top of the crispy-skinned codfish.
The buttery clam with diced vegetables was delicious on its own and with the saffron risotto and edamame. Codfish is one of my favorite fish and the fish here was cooked so the skin was crispy and the white meat was firm and succulent, the way I like it.
Dessert was a dark, rich Valrhona dark chocolate truffle which came in a tart shell sprinkled with dehydrated raspberry pieces and sea salt flakes served with raspberry sorbet, fresh raspberries and candied pecans.
The plate was also drizzled with chocolate and hazelnut sauce. My daughter and I shared dessert. She loved the creamy chocolate truffle in the cookie crust and wanted more than her share of the raspberry sorbet. In the end, she declared it "yummy". I agreed.