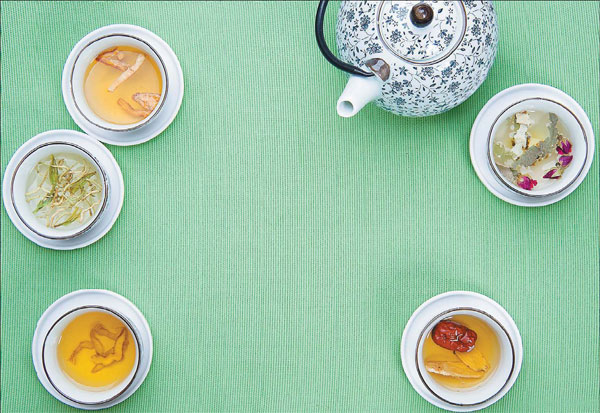 Herbal tea, made of ingredients with cooling properties, is a popular summer drink to diffuse internal heat. Photos provided to China Daily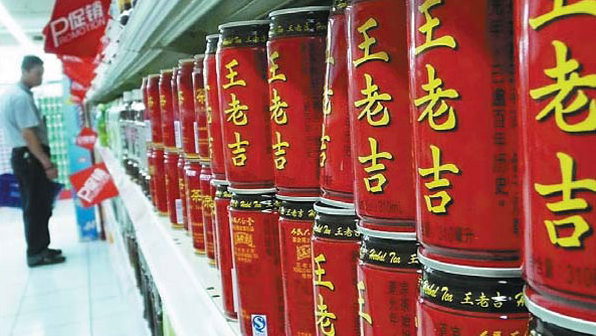 Herbal teas are sold in cans in major supermarkets.
While the rest of the world swelters as the mercury shoots up, China keeps cool with the help of ancient practices that have been passed down for countless generations. Liu Zhihua tells you what they are.
It is summer, but a rare heat wave recently had the weather bureau send out high temperature alerts to almost a third of all China's provinces.
Such weather can cause, at best, sunburn and, at worst, heatstroke, with a spectrum of symptoms in between, such as headaches, bubbling colds, mouth ulcers, indigestion and low spirits.
When heat waves linger across China, people resort to time-tested ways to keep cool and healthy, many of which are based on the principles of traditional Chinese medicine, which has kept the Chinese in good health for thousands of years.
Mostly, the main belief is food is medicine, and you have to keep healthy in summer by knowing what to eat and drink, rather than simply getting out of the heat and keeping cool.
"Traditional Chinese medicine emphasizes keeping harmony with nature and the environment, and living healthily in accord with seasonal changes," says Xia Zhongyuan, a TCM practitioner with China-Japan Friendship Hospital in Beijing.
"It is not just about treating illness but is more about a lifestyle that maintains body, mind and spirit."
Beijing resident Xu Dali remembers experiencing the magic of TCM when he was a young boy.
The 30-year-old used to spend his summer holiday in Shaoguan city, Guangdong province, where his aunt lives. It was a lot of fun, but the heat caused him to suffer nosebleeds. This is a typical symptom of too much internal heat, or shanghuo, he was told.
His aunt made him a cooling herbal tea, or liangcha. Xu was made to drink a bowl of this slightly bitter medicinal tea every day to stop the nosebleeds.
"It was like magic. My nose would stop bleeding if I had the tea faithfully every day, but if I did not drink it, my nose started bleeding the next morning," Xu remembers.
Liangcha was and still is a very common homemade summer drink in Southern China. The dark brown tisane is usually bitter and sometimes slightly sweet, depending on the combination of herbs used.
The most commonly used are mint, honeysuckle, lotus leaves, perilla, chrysanthemum and Arhat fruit, all of which TCM believes have cooling properties to diffuse internal heat.
Xia, the TCM specialist, says herbal tisanes are very popular in South China, partly because the weather there is hotter and more humid than in the north, although the gap is closing these days.
Different prescriptions of herbs prevent, relieve or cure a variety of summer ailments, such as sore throats, colds and indigestion.
There are many shops selling tisanes in southern cities, such as Guangzhou and Hong Kong.
Up north, the cooling drinks became popular more as soft drinks, and herbal teas are sold in cans, unlike the freshly brewed pots in the south.
Diet is also important to keeping healthy in summer, and a light diet with "cooling" food is best, observes Xie Lijun, a TCM specialist with the No 3 Hospital of Beijing University of Chinese Medicine.
"Food and drink in daily life play an important role in TCM practice," Xie says.
Foods with a cooling nature include cucumbers, beans, mushrooms, pearl barley and watermelons. They are light but rich in vitamins and proteins. They also help the body remove excessive humidity, Xie notes.
It is also eating according to seasons, because most of these vegetables, fruits and melons ripen in summer.
Despite the urge to drink and eat cold food or drink in summer, Xie says it is better to have hot food in summer. Even cooling herbal teas are best drunk while still warm.
Moderation is still the best guide though, as Xia, the specialist with the China-Japan Friendship Hospital, says too much cooling food may cause upset stomachs in people with weak digestions.
A final caution from Xia: Staying in an air-conditioned room for too long may also subject your body to stress. Likewise, being exposed to too much sun is also unhealthy.
The secret is to keep cool and eat healthily.
Li Xiang contributed to the story.