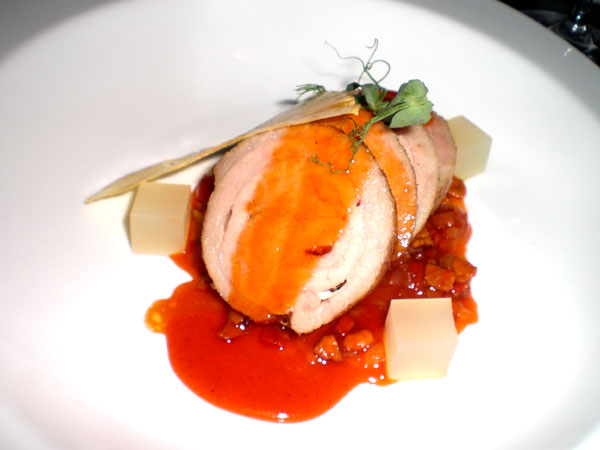 Irecently made the trek over to Kwun Tong to check out the new restaurant MC Kitchen, the latest offering from "demon chef" Alvin Leung.
With a couple of Michelin stars under his belt, Leung is best known for his style of food that he calls "X-treme Chinese" cuisine.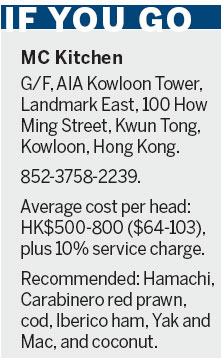 Kwun Tong has historically been an industrial area filled with factory buildings - dining options have traditionally been fairly basic - so I was intrigued by the unusual choice of location.
Having not been in the area for a number of years, I'm not sure what to expect when I emerge from the MTR subway. I look up and see the tall and shiny Landmark East complex where the restaurant is located.
Leung says the dishes served at MC Kitchen are what he considers to be "a modern kind of comfort food" that is distinctly different from his other restaurant, Bo Innovation.
The lower rents in Kwun Tong mean the pricing at MC Kitchen is lower than at Bo Innovation.
He says he hopes to see many return customers who come to eat their favorite dishes, and says they are already seeing many families dining at MC Kitchen.
At Bo Innovation, an a la carte menu is not available, but at MC Kitchen, guests can select their dishes or dine on the set menu.
Our meal begins with a refreshingly cool and elegant starter called Hamachi made with wasabi, apple ice with cucumber, and yuzu foam served in a martini glass, garnished with a thin slice of dehydrated green apple.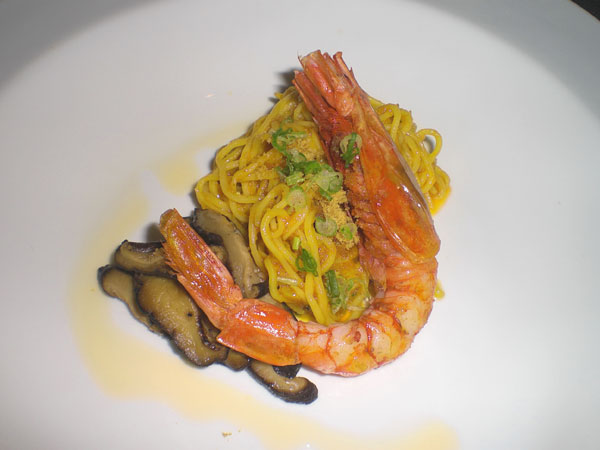 Carabinero red prawn with ha mi oil, homemade pasta and mushrooms is a winning dish at MC Kitchen. Donna Mah / For China Daily
I make the mistake of eating the wasabi and apple ice on its own and experience a wallop that is immediate and a bit shocking.
The fish appetizer is followed by a foie gras lettuce wrap, and an aromatic beef broth with truffled tendon, wagyu wonton and a daikon pearl. The beef broth is rich in concentrated beef flavor having been simmered for three days before serving.
The group's favorite of the evening is the Carabinero red prawn, "ha mi" oil (dried shrimp oil), handmade pasta, and mushrooms. It is Leung's take on ha ji lo mien (shrimp roe noodles) and has become a signature dish in his repertoire. Extra ha mi oil is provided on the table for guests who want more of the intense seafood flavor.
The term umami is used by my dining companions when describing this dish. The initial pungency of the dish may be off-putting for some, but the perfectly cooked noodles with the rich seafood flavors beautifully plated with the red prawn perched on top, makes it a winning dish.
Leung's interpretation of fried dace in black bean sauce is a cod fillet cooked with black bean and honey served on a bed of fennel salad with dried black bean powder and mandarin orange pieces.
The sweet and sour pork looks nothing like the bright orange sauce with bits of battered and fried pork we are used to seeing. This one is made with Iberico pork haw flake (Chinese hawthorn) sauce, lychee jelly, and dehydrated pineapple.
The side dishes we have are carb-heavy and include salted fish mash, macaroni and yak cheese, and Leung's signature chicken stock risotto.
My one complaint about the meal is that I would have liked more vegetables. They don't need to be deconstructed or fancy, just a simple stir-fried kailan and ginger juice would have been appreciated.
Of the desserts, the stand-out is the one simply called coconut. Made with coconut sugar ice cream, coconut milk, coconut water snow, rhubarb coulis, and chocolate crumble, this is a light and sweet way to end the meal.