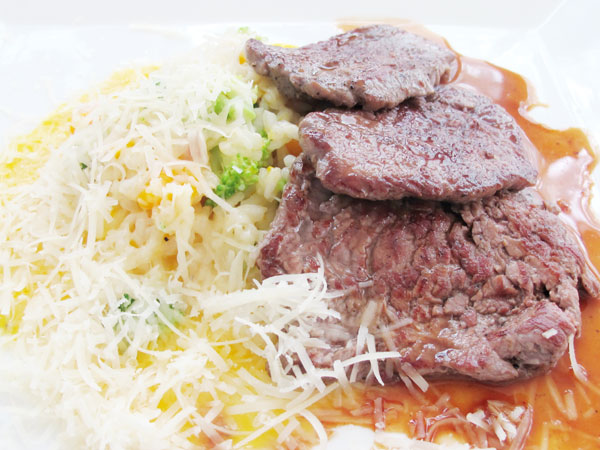 Guests can choose from a selection of tender,flavorful steak. [Photo by Mike Peters/China Daily]
If you are a fan of Latin food, you may share one of my frustrations about "foreign" restaurants in China: Where are the black beans?
Mexican restaurants tend to tilt toward Tex-Mex and refried frijoles of the lighter kind. But one eatery in Beijing celebrates its South American roots and serves up a robust feijoada every weekend.
This savory stew - often described as Brazil's national dish - is a slow-cooked wonder of beans and pork in a salty, purplish broth.
It's served as a bit of a jigsaw puzzle: a bowl of white rice, the bubbling stew, a side of grilled salt pork and other meaty morsels, and small bowls of chopped tomato and other condiments.
From there it's do-it-yourself: Spread a foundation of rice on your plate and build from there as you wish. A tiny cup of sauce - piquant with chilis that remind me of Tabasco but blended with a little bean broth to make it look deceptively harmless - adds firepower if you like your meal spicy, but a little goes a long way.
When you ask regulars what sort of restaurant Alameda is, they might not automatically say "Brazilian", though that's its claim to fame.
Saturday's feijoada lunch specials - still one of the best-kept secrets in Beijing despite plaudits from local dining guides - will make you feel like you're laid-back in Rio, but other dishes are a fine-dining mix that would shine anywhere.
The menu is modest in size but big on presentation. Set meals change weekly for lunch and monthly for dinner, which makes it hard to tell newcomers "what's good?" except that pretty much any choice is fail-safe.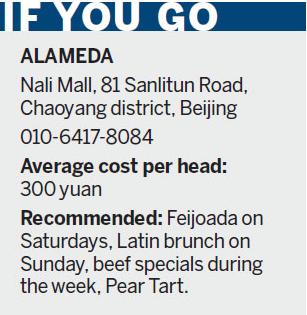 There is invariably a steak choice anytime, and with a Brazilian chef and owner it's no surprise that these are star entrees - tender, flavorful, and cooked to order. ("Medium, please," is never the crapshoot here that it can be elsewhere.)
Tucked against the Nali Mall, the cozy eatery has become a noontime favorite for Sanlitun's business crowd, with lunch sets that are great value at about the 100-yuan ($16) mark.
Dinner sets are 198 yuan for two courses and 228 yuan if you want to add a dessert course.
Executives and diplomats drop in for predictably good food and a wine-cellar ambiance in an atrium setting.
Now that the weather is fine on the shaded patio, the staff sets up so many tables outdoors it's almost hard to tell there are other eateries in the courtyard.
It's a fine setting to try the house cocktail, the caipirinha - made with cachaca (sugar cane hard liquor), sugar and muddled lime, urges chef Geraldo Thomazini.
The atrium room at the restaurant's heart evokes a greenhouse and a sense that the place is environmentally friendly. The polished waitstaff will warn you that a meal inside the glass shell can be noisy when it's full of chatting business types or hungry families, but it's a pleasant, human buzz that usually adds to the fun.
We recently settled in for a lunch under glass, choosing a tuna starter that was so artfully contrived it could have been a Picasso painting - and so delicious that we forgave its airs.
Our mains, beef tenderloin and roasted sea bass for mains, were also elegant but less self-conscious, and we cleaned out plates with gusto.
Choosing dessert can be torture - the kitchen has a magic way with pears, for example - but we opted this time for a simple rich chocolate mousse with strawberry and a rice pudding.
Many Beijing restaurants - even some hipsters in the Western playground of Sanlitun - can't be bothered to offer wine by the glass. Alameda has long known that's no way to build a wine culture, and there's an appealing list of about 10 reds and whites by the glass as well as the extensive bottle menu.
There is a selection of wines priced at about 200 yuan per bottle, but 400 yuan is average, says Thomazini, who adds that the restaurant changes the list about every three months.
So a pleasant glass of malbec became a perfect match for our beef tenderloin main, and my friend and I savored steaming cups of cappuccino with dessert - kicking the lunch tab well past that 100-yuan price point and not minding a bit.