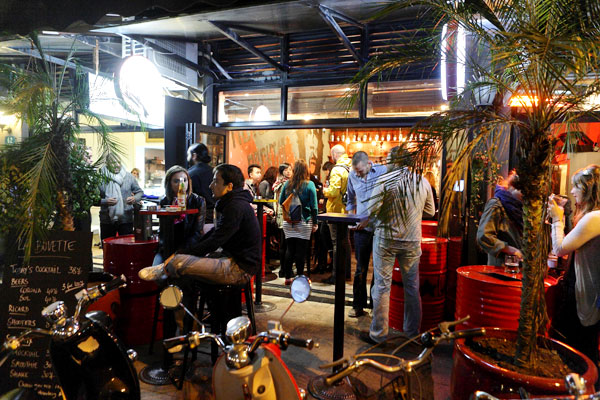 The 40 bars along Yongkang Road have become popular watering holes for expats in Shanghai, but residents complain that the noise is making their lives unbearable. Ri Yi for China Daily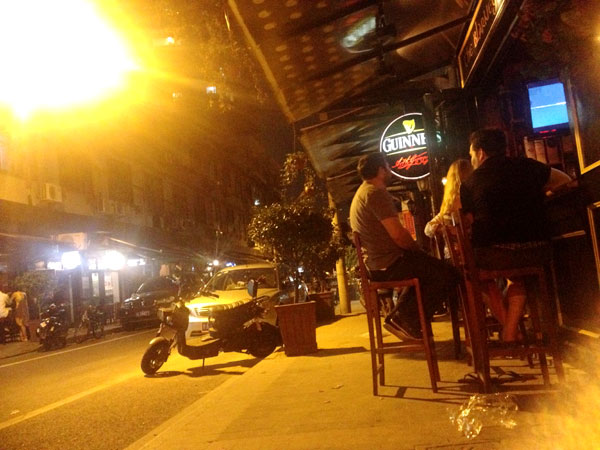 Expats enjoy a night out on Yongkang Road. Although their licenses stipulate that bars should close at 10 pm, many owners ignore the regulations and stay open much later. Gao Erqiang / China Daily

Nightlife noise tests residents' tolerance, reports Zhou Wenting in Shanghai.

At 9 pm on July 4, a scorching summer day, more than 1,000 Westerners packed into a 5-meter-wide, tree-lined street chatting and laughing as they sipped drinks on Yongkang Road in Shanghai's Xuhui district.
The 50-meter-long street, a popular haunt for expatriates and located in the former French concession, is bounded on both sides by old, three-story residential buildings, the first floors of which have been converted into about 40 bars.
However, this is proving to be a headache for the locals. The buildings have poor sound insulation and those living on the upper floors have complained about the noise levels for the past year. Some have become so exasperated that they have emptied buckets of water onto the crowds below in an attempt to disperse them.
"Entertainment and nightlife are important components of successful cities and conflict between different communities is a natural consequence of a great, rising city that's not only a center for business, but also for fun and culture," said J. T. Singh, a Canadian "urban explorer and city identity expert" who has lived in Shanghai for six months.
The city is home to nearly 150,000 foreign permanent residents, a number that seems certain to increase, and some experts believe the problems of integration are like to become fraught unless entertainment districts are specifically designed to minimize conflict between the groups or the locals and expats reach some sort of compromise.
Joshua Miller works for a design company in Shanghai. The young Briton said he comes to Yongkang Road regularly after work to grab a beer and talk with friends. "We love this old street. There are traditional grocery stores and shoe shops here and we don't need to dress up like we would if we were going to fancy bars on the Bund. It's very Shanghainese here, people feel comfortable and relaxed," he said.
The presence of 200 French nationals in Ming Yuan Century City on Middle Fuxing Road, a high-class neighborhood nearby, inspired five compatriots to open Yongkang Road's first bar, Le Cafe des Stagiaires, in November 2011.

An influx of foreigners followed and many opened businesses. "We have managers from Australia, France, Italy, Belgium and the United States, Around 90 percent of the bars were opened by foreigners," said Chi Zhihui, general manager of Shanghai Paifeng Yongkang Business Management Co, which works to attract businesses to the area.
The revelry usually begins at around 6 pm. As more people arrive, they spill out onto the street, occupying the tables and chairs placed outside each bar.
"People come to have a few beers, meet their friends and enjoy a chat. They feel at home here," said Benjamin Blaise, a partner at Le Cafe des Stagiaires.
The voices of the patrons were drowned out by the music, forcing them to speak more loudly. Up above, most of the second- and third-floor windows were closed and the ceiling fans were working flat out.
Statistics from the local neighborhood committee show that Yongkang Road has more than 5,300 residents - roughly 1,500 of them are aged 60 or older, while 37 are 90 or older.
Dozens of mopeds lined both sides of the street, leaving barely enough room for cars to squeeze through. The locals said there used to be two lanes of traffic, but the road is now often blocked by the revelers and their mopeds and residents are driven to distraction by the repeated blaring of car horns.
Two inspectors from the neighborhood committee who were patrolling the road said their job is to put the mopeds in orderly rows and to ask people to move when vehicles try to pass. However, their remit does not involve noise pollution or control.
The noise continues until midnight most evenings, according to residents, although Chi said the bar licenses stipulate a closing time of 10 pm.
"We can't drive our customers away, but what we can do is stop taking orders from 10 pm. Still, we can't control when they leave the restaurant," said one waiter, who asked not to be named.
Water attack
On March 9, several exasperated residents dumped water on a noisy crowd enjoying the nightlife on the street below. However, the drenching failed to dampen the crowd's enthusiasm or stop the noise.
"They didn't move away, they just jeered," said one second-floor resident, who preferred not to give her real name and asked to be called Liu. She admitted that the attack was not the first of its kind.
"We are not opposed to a cluster of bars opening in our neighborhood, and the last thing we want is to antagonize the expats. But the place has become a heaven for foreigners and a hell for locals," said Liu.
She said she was hospitalized twice in October because of a cerebral infarction, a type of stroke, and the noise prevents her from getting sufficient rest. "All the buildings on this street have wooden frames and are more than 70 years old. The floors shake constantly because of the loud noises downstairs."
The night of the water attack was particularly busy, according to Li Ting, who runs a vegetable stall nearby. "We could feel the waves of heat coming from Yongkang Road, even from two streets away. Some people parked their mopeds in the middle of the road and obstructed the traffic. They became louder and louder, jumping and screaming," she said.
Residents have asked why the local authorities haven't moved to stop the noise by preventing bar owners from placing tables and chairs outside the bars.
The Shanghai Environmental Pollution Control Regulations for the Catering Industry prohibit establishments that serve food from being located in residential buildings. But all the businesses on Yongkang Road have been granted licenses that allow them to operate as bars or restaurants.
Xu Zhian, a spokesman for the Yangpu district administration for industry and commerce, said if a business obtains the required permits from the food and drug administration and the environmental protection authority, which is responsible for checks on noise pollution, the administration has no reason not to issue a business license.
Meanwhile, an officer at Xuhui district's environmental protection bureau, surnamed Li, said the bureau is only authorized to investigate noise made by machinery or electronic equipment and the human voice is outside its scope of activity.
The police said they can ask people to keep the noise down, but admitted that there are no legal means of punishing the noisier revelers.
Xuhui district's urban management bureau has issued rectification notices against three bars that violated the regulations by placing tables outdoors. It has also spoken with bar owners and managers in a bid to ensure the sidewalks are kept clear.
"We've done a lot to ease the tensions, such as encouraging the bosses to close the bars at the agreed times and install soundproof windows for the residents," said an information officer surnamed Ding from the Tianping sub-district of Xuhui.
She said the district government has high hopes for the development of the bar street, which has spurred the renovation of Yongkang Road. "The facelift was meant to improve the surrounding environment and bring new business opportunities."
In the wake of the March water attack, the bar owners agreed to close by 10 pm, but Liu, whose 11-year-old grandson lives with her, is still not satisfied.
"The boy comes back from school at around 4:30 in the afternoon. Does he have to begin doing his homework after 10 pm?" she asked.
"Sometimes, just as I've been falling asleep at around 11 pm, the sudden screams from customers leaving the bars have disturbed me," she added.
Chi said her company holds weekly meetings with the bar managers to emphasize that they should stop taking orders at 9:30 pm and urge customers to leave by 10 pm.
"We're having a hard time between locals and the foreigners. We want to reduce the impact on residents as much as possible, but the two groups have their respective living habits," she said.
Miller said the bars will simply go out of business if they are forced to close at 10 pm: "It's when the expats are just getting warmed up."
Blaise understands that the buildings are old and the residents can easily hear the noise: "If I put myself in their position, I wouldn't like this place."
In a bid to mollify one resident, Blaise bought the man's room on the floor above his bar. He now uses the room as an office and the resident has moved to an apartment in a street 200 meters distant.
Chi said the bar owners considered buying the second- and third-floor rooms, but the plan fell through because the residents demanded unrealistic prices.
In June, the average price of a newly built residence in Shanghai was more than 28,400 yuan per square meter, according to the China Index Academy. Meanwhile, pre-owned apartments cost nearly 27,000 yuan per sq m, according to Soufun, an Internet real estate platform.
"My room is 15 square meters. If they paid me 10,000 yuan per square meter, how could I buy another apartment?" asked Liu.
Expat magnet
Shanghai is a magnet for expats, who arrive in large numbers to learn Chinese and look for work.
"Foreign residents usually account for more than 5 percent of the total population of an international metropolis, and the day when the foreign population in Shanghai reaches a million is just around the corner," said Zhou Haiwang, vice-director of the Institute of Population and Development at the Shanghai Academy of Social Sciences.
He said it is important for the authorities to formulate plans to concentrate the foreign community in specific areas so expats can enjoy the services and lifestyles best suited to them, but problems and culture clashes are almost inevitable when foreigners and locals share a district, he said.
Some experts have encouraged locals and expats to live relatively independently of each other, and pointed to foreign communities, such as Gubei in Changning district and Lianyang in Pudong New Area, as good examples of this.
However, some of the expats are unwilling to be confined to specific areas. "We want to integrate, so that people from different backgrounds can learn from and compromise with each other," said Briton Stuart Dunn, general manager of the Tap House bar.
"The interests of Chinese residents and expats may be better served by limiting the number of customers in each bar and closing the bars at a time that enables the locals to get a good night's rest," said Zhou.
Both sides have to stick to their promises, and greater investment in security staff could be helpful, he added.
Singh, the city expert from Canada, said, "The business community, along with the local authorities, should take more responsibility to maintain a cleaner, safer and civil environment for both fun seekers and locals."
Meanwhile, Dunn said the business owners and managers are eager to cooperate with the local authorities and their neighbors because their businesses are not aimed specifically at Westerners.
"We are neighbors and I don't want to cause my neighbors any trouble. We're in China, which is not our country - we have great respect for the locals," said Blaise.