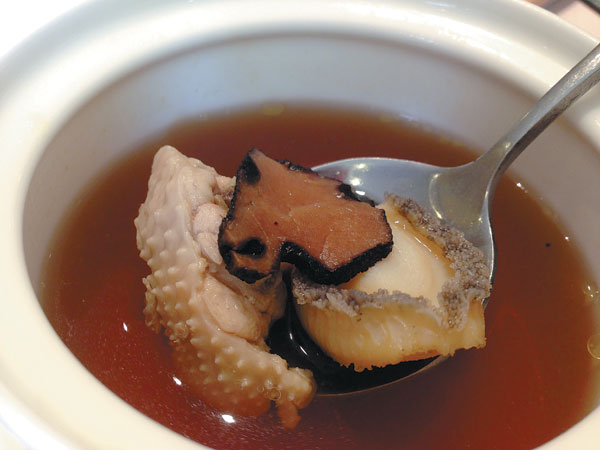 Truffle chicken soup is one of the best-tasting tonics to promote calm and assist peaceful sleep. Photos by Guo Anfei / China Daily
Chinese chefs have been experimenting with new ingredients for thousands of years, but sometimes they rediscover something old, like truffles, Pauline D. Loh and Guo Anfei find.
In the foothills of the Tibetan mountains, they have been feeding truffles to pigs for centuries, especially when the boars are reluctant to mate. That's when the farmers go into the mountains and forage in the pine forests for black fungus to get them in the mood.
These little black lumps were exclusively swine fodder, for the locals wouldn't have dreamed of eating them, mainly because of their peculiar aroma.
All that has changed of course, and the farmers now hunt the truffles to sell at high prices, while the boars are left to Mother Nature's whims.
"People have described the scent as a cross between onions and garlic. Some have compared it to the smell of old shoes, others have described it as earthy sandalwood, but no one has been able to pin down an accurate description," says executive chef Wang Chuanshu of the Wild Duck Lake Resort on the outskirts of
Kunming.
The resort is a sort of retreat for the well heeled, who return to their sprawling holiday villas every weekend, and book their lunches and dinners at the chef's Yan Yu Restaurant, where they expect to be pampered.
Wang delivers with the best local ingredients, traditional treasures from mountains and seas beloved by Chinese gourmets.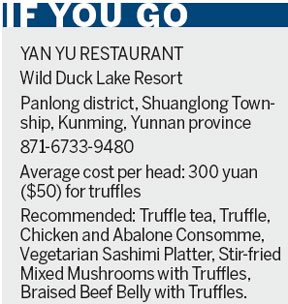 One of the new favorites of his upmarket clientele is the Chinese black truffle, which Wang buys in season and carefully chills in special cold storage so he has a yearlong supply.
A lot of credit goes to the chef, who has done his share of homework.
"Unlike Western diners, the Chinese do not like the texture of raw truffles, which tend to be a bit woody. We have had to experiment to improve the texture."
For the Chinese chef, a successful creation must have color, fragrance, taste and texture, none of which can be missing.
There is no doubt the truffle has fragrance, so the task before him was how to exploit this quality while improving its taste and texture. Chef Wang has come up with quite a few innovative ways to enjoy truffles, the Chinese way.
First, his truffle banquet starts with a pot of
tea
in which thick slices of Chinese black truffles are infused in hot water. This is an amazing way to enjoy the aroma, and it incorporates an ancient Chinese culinary tradition. A single wolfberry provides a spot of color and a touch of sweetness. Nothing else is needed other than the oddly savory fragrance of the truffle.
This savory scent is again accentuated in a chicken and abalone soup, where truffle slices are added in the final half hour of simmering to bring out its full fragrance.
Yunnan
chicken is known for its flavor, so when you add a whole fresh abalone and truffles, you can be sure the consomm is a winner.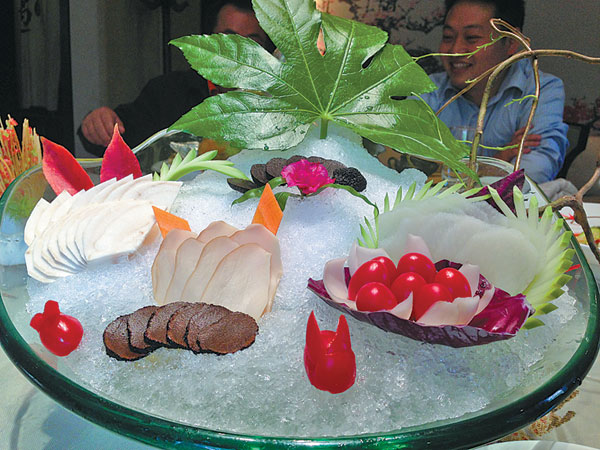 A sashimi selection of local mushrooms and herbs is presented on a mountain of crushed ice, featuring the truffle and its cousin.
Next came the texture test and this is where the chef enlists the help of other Yunnan produce. A sashimi selection of the best local mushrooms and herbs is presented on a mountain of crushed ice, featuring the truffle and its cousin.
Xingbao mushrooms, poached in chicken stock actually tastes like finely sliced abalone. Sandwich a slice of truffle between two slices of this and you get a taste and texture sensation that can be addictive.
Raw, chilled slices of arrowroot occupy one corner of the ice mountain, and acts as a palate cleanser. On the other corner are translucent slices of fresh tianma, the gastrodia rhizome that is a tonic for headaches. The clean, crisp taste of the tianma is echoed in the petals of fresh sweet lily bulbs, while the whiteness of both is offset by bright red cherry tomatoes.
I thought the truffle slices were a bit overshadowed by the palette of textures from the other ingredients on the platter, but it was a truly attractive starter and I found it hard to complain.
The chef also pairs a braised beef belly with a heavily scented truffle sauce, but while others at the table obviously enjoyed this offering, I thought the chicken consomm still won hands down when it came to displaying the truffle's best quality.
Finally, Wang showed off a playful side of his creativity by offering us truffle-scented egg tarts, which immediately reminded me of how an Italian chef described how he would place his truffles in the egg basket so the eggs would be scented.
That was probably what inspired the chef with his egg tarts. They were buttery and decadent and were marked with Chinese characters that made them pieces on a chessboard. It was a fitting final move, because where Wang and truffles are concerned, it's checkmate.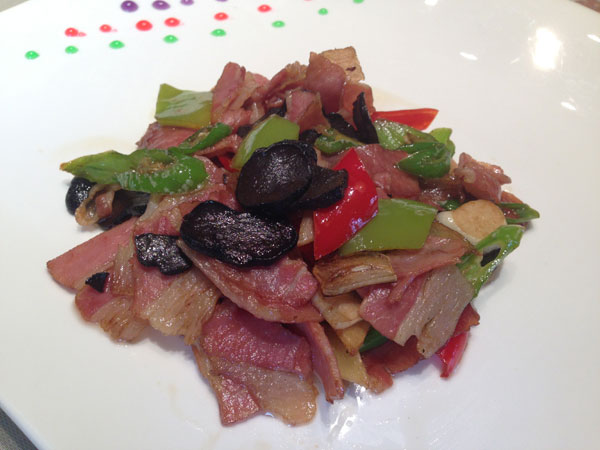 Truffle and ham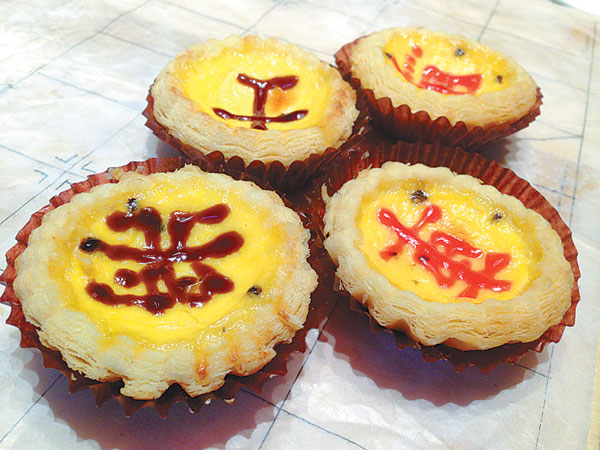 The truffle-scented egg tarts are buttery and decadent,and look like pieces on a chessboard.