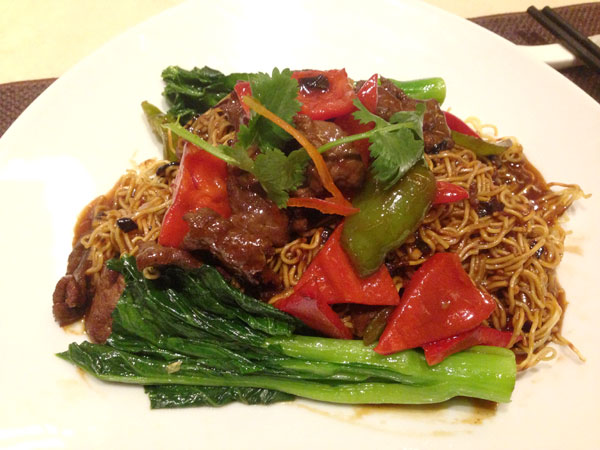 Shrimp dumplings, fried milk and dried beef noodles in black bean sauce are three signature dishes of Cantonese cuisine. [Photo by Pauline D. Loh / China Daily]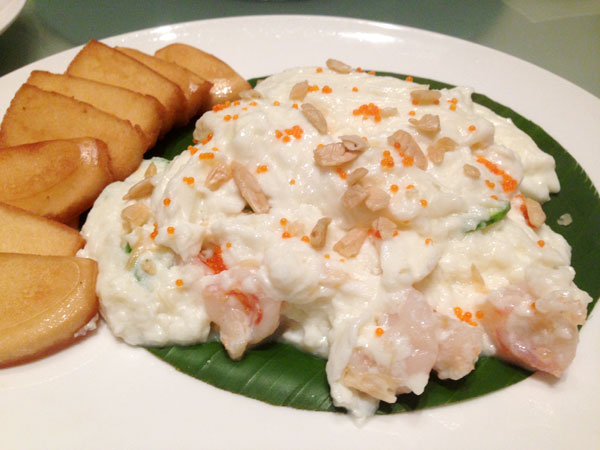 Shrimp dumplings, fried milk and dried beef noodles in black bean sauce are three signature dishes of Cantonese cuisine. [Photo by Pauline D. Loh / China Daily]
Cantonese cuisine is known all over the world as representative of Chinese food. There is a branch of Cantonese cooking, however, that is a cut above even this excellent sample. Pauline D. Loh takes a journey to Shunde.
The best chefs in China come from Guangdong, and the best Cantonese chefs, they say, come from only one place - Shunde county, known as the Normandy of China.
Pick a Chinese executive chef in any five-star hotel chain, and there is a 50-percent chance that he is a Shunde native.
It is here that the best produce from mountains, plains and sea congregate, providing a rich
art
istic palette for Shunde chefs. They, in turn, have repaid nature's bounty by creating a branch of Cantonese cuisine that is known for its rich diversity, delicacy of taste and its dairy products.
Shunde is probably the only place in Southern China that uses milk in its cooking. The native water buffaloes give rich milk that is turned into a cornucopia of unique products, including a brined sheet cheese that is very like the Greek feta.
Then there is Daliang fried milk, the region's most famous signature dish.
Milk is cajoled into thick curds by the addition of egg whites and vinegar and then quickly fried with seafood, usually prawns. It has to be cooked enough that it will hold its shape as a snowy omelet, and must be tender enough that it melts in the mouth.
It must also not turn watery on the plate - and any home cook who has attempted scrambled eggs will know how difficult that can be.
It has been a long time since I have tasted this famous dish from my ancestral home, but I had the pleasure of savoring an excellent example on a recent business trip to Guangzhou, Guangdong's provincial capital, thanks to Ben Huang, executive chef of the Four Points Sheraton.
Chef Huang serves his fried milk garnished with another famous Shunde product, olive kernels, gently toasted and fragrant in the mouth.
It is difficult to get the flavoring for fried milk right. It needs to be savory enough, but only just enough so that the milkiness of the curds is not overpowered.
I am gratified to know that the international business community that makes up the Sheraton clientele can enjoy this most Cantonese of dishes. Perhaps it will finally neutralize the images of chop suey, sweet and sour pork and unknown meats smothered in lobster sauce.
At the Four Point Sheraton's China Spice restaurant, there is an excellent selection that showcases the best of Shunde cuisine ranging from noodles to soup to pigeon.
Take the noodle classic: dry fried beef noodles in black bean sauce. On my first night at the Sheraton, we order room service after an extremely long and tiring day. The beef noodles that come almost reduce me to tears.
It is an incredible feeling of deja vu.
The noodles are crisp and fragrant, with a bite that contrasted with the flavorful black bean and garlic sauce. The slices of beef are just cooked and do not need much teeth work. And finally, diamonds of colored peppers add both color and texture to the dish.
By the time the platter is cleaned, my mood is restored and I'm ready for bed.
That is what makes Shunde food so good. It is great comfort food, especially for a southern Chinese.
If you are at China Spice, there are two other must-order dishes that I would definitely recommend - the savory eel rice, and the shredded fish broth, both of which make use of the seafood so easily available in Guangzhou.
The very tasty pigeon, a Cantonese roast meat specialty, may need to be ordered ahead, but if you like gamey birds, it is worth the effort to call in advance.
Of course, no self-respecting Cantonese restaurant would be without its dim sum selection, and the trinity of char siew bao, siew mai and har gow are all excellent.
For desserts, you have to try the young coconut tarts and the little steamed almond sponges. They are truly feel-good treats.
Contact the writer at paulined@chinadaily.com.cn.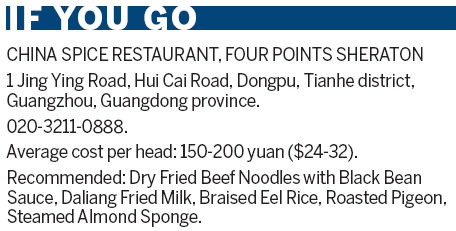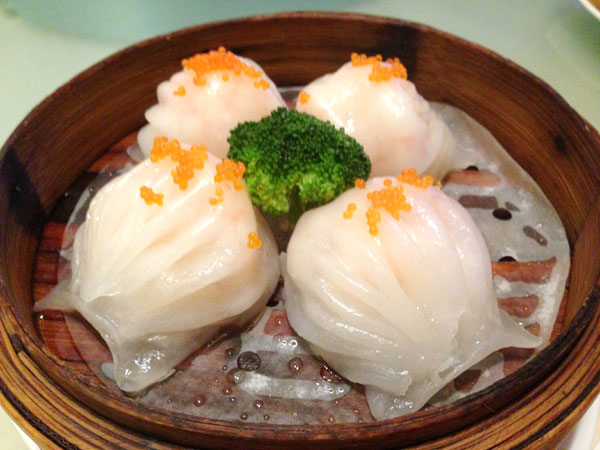 Shrimp dumplings, fried milk and dried beef noodles in black bean sauce are three signature dishes of Cantonese cuisine. [Photo by Pauline D. Loh / China Daily]