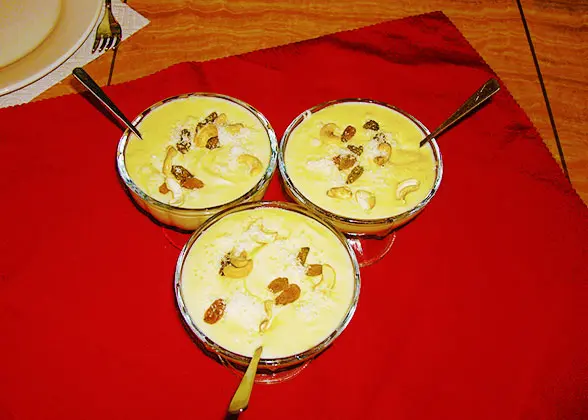 The Uygurs are a Muslim ethnic group from Xinjiang Autonomous Region in the Northwest. There are Uygurs all over the city selling lamb shish kebob, but there are two places where they are fairly concentrated together, one is tempted to call them ghettos. These two locations, Weigongcun and Ganjiakou, abound with Uygur restaurants. If you are walking by around dinner time, prepare yourself to get accosted by 'grabbers', sort of like 'greeters' at other restaurants, except these guys tugs on your sleeve and try to drag you into their place.
Nothing hostile, just very persistent. The best thing at these restaurants is the roast fried spicy mutton (chao kao rou), square noodles in tomato sauce (chao pian'r), and the round nang bing, a type of bread which is scrumptious when piping hot, and hard as a rock when cool. There is also a smaller, fatter type of round bread which can satisfy a bagel-craving. The roadside shishkabob can be delicious, too, but is not always the paramount of sanitary foodstuffs.

Turpan Restaurant
Chinese name: 吐鲁番餐厅(tǔ lǔ fān cān tīng)
It is a time honored branch restaurant offering Uygur food. The Uygur dishes here improve a little and have some Beijing flavor. The restaurant is decorated with dense Uygur feature.
Average Cost per Person: CNY50
Recommended Dishes: Kebabs, Fried Sheep Fillet Slice, Saute Spicy Chicken with Potato, Roast Gigot
Location: No.6, Niujie Beikou, Xuanwu District

A Fun Ti Hometown Music Restaurant
Chinese name: 阿凡提家乡音乐餐厅(ā fán tī jiā xiāng yīn yuè cān tīng)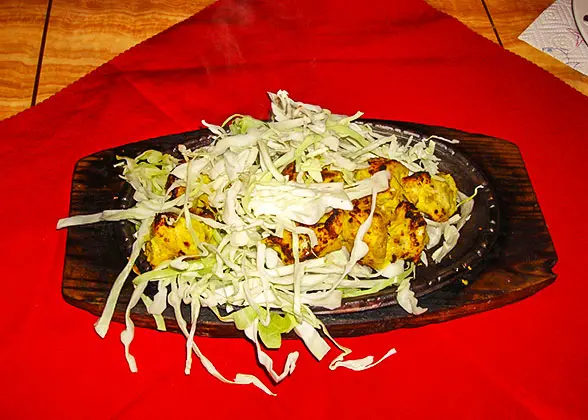 It is a typical Uygur restaurant with dense folk feature. The colorful carpets are hanging on the wall and the waiters are wearing Uygur costumes. There are performances every night. The beautiful Uygur girls dance in their long skirts with the Uygur folk songs. Apart from that, the eaters can jump on the tables after the performances to dance together as their pleasure. That is really interesting.

Average Cost per Person: CNY110
Recommended Dishes: Kebabs, Stewed Beef with Lemon, Saute Spicy Chicken with Potato
Location: No.2 A, Houguaibang Hutong, Chaoyangmennei Dajie, Dongcheng District

Han-t'eng-ko-li Muslim Restaurant
Chinese name: 汗腾格里清真餐厅(hàn téng gē lǐ qīng zhēn cān tīng)
Average Cost per Person: CNY50
Recommended Dishes: Kebabs, Saute Spicy Chicken with Potato
Location: in the compound of Office of Xinjiang Uygur Autonomous Region in Beijing, No.7, Sanlihe Lu, Xicheng District

Quadrangle Flavor Restaurant
Chinese name: 四合院风味菜馆(sì hé yuàn fēng wèi cài guǎn)
Average Cost per Person: CNY40
Recommended Dishes: Sheep's Backbone Light Soup, Crisp Gigot
Location: No.53, Shuangyushu Beilu, Haidian District
Bus Route: 323, 384 (get off at Shuangyushu Park Stop)

Xi Yu Shi Fu Uygur Restaurant
Chinese name: 西域食府(xī yù shí fǔ)
Except for the Uygur table delicacies, there are Uygur Singing and Dancing Shows waiting for you to enjoy every evening.
Average Cost per Person: CNY80
Recommended Dishes: Kebabs, Roast Gigot
Location: No.411, Section 4, Beichen Donglu, Chaoyang District

Xiao Lou Restaurant
Chinese name: 小楼饭店(xiǎo lóu fàn diàn)
Average Cost per Person: CNY35
Recommended Dishes: Fried Catfish, Jingdong Meat Pie
Location: No.12, Tongzhou Nandajie, Tongzhou District

Grape Restaurant
Chinese name: 丝路驿站食府(sī lù yì zhàn shí fǔ)
There are Uygur performances every evening which are really attractive, especially the bellydance by the beautiful Uygur girls.
Average Cost per Person: CNY60
Recommended Dishes: Saute Spicy Chicken with Potato, Kebabs
Location: No.36, Tianze Lu, Chaoyang District



The Mughal's Restaurant
Actually, this is a Pakistani style restaurant with comfortable dining environment.
Chinese name: 新疆卡拉奇餐厅
Average Cost per Person: CNY100
Location: 5188, the 5th Floor of 3.3 Fashion Plaza, 33, Sanlitun Lu, Chaoyang District

Kao Rou Yuan Restaurant
Chinese name: 烤肉苑饭庄(kǎo ròu yuán fàn zhuāng)
Average Cost per Person: CNY60
Recommended Dishes: Fried Beef, Stir-fried Shrimp Meat with Chilli and Peanuts
Location: No.9, Wanquanhe Lu, Haidian District

Dashuntang Restaurant
Chinese name: 大顺堂食府(dà shùn táng shí fǔ)
Average Cost per Person: CNY30
Recommended Dishes: Special Mutton Chop
Location: 1/F, Bldg 5, Fayuansi Xili, Xuanwu District

A Da Xi Xinjing Restaurant
Chinese name: 阿达西新疆菜(ā dá xī xīn jiāng cài)
Average Cost per Person: CNY25
Recommended Dishes: Kebabs
Location: No.32, Liulitun Beijie, Chaoyang District

Xinjiang Flavor Restaurant
Chinese name: 新疆风味(xīn jiāng fēng wèi)
Average Cost per Person: CNY25
Recommended Dishes: Kebabs, Saute Spicy Chicken with Potato
Location: Maoer Hutong, Xicheng District