Chinese name: 海米冬瓜 (hǎi mǐ dōng guā)

Style: Zhejiang Cuisine

Characteristics: Winter Melon with Dried Shrimps is delicious with its fresh and smooth texture.

Winter Melon with Dried Shrimps, a sister dish of Stewed Winter Melon, is a simple but delicious home-cooked dish. The two main ingredients complement each other perfectly. Whereas the dried shrimps enhance the flavor of winter melon, the latter, on the other hand, turns the dried shrimps milder and tastier.
Ingredients:
250 g fresh winter melon
10 g dried shrimps
chopped green onion
chopped ginger
pepper powder
salt
Note: the amount of the ingredients especially the seasonings listed above can be appropriately used according to one's personal taste.
Preparation:
A. Skin the winter melon, wash clean and cut into thick shreds (if too thin, it will be burnt to a frazzle easily) and put into a plate.
B. Wash the dried shrimps and soak in a bowl of water for 2 minutes. Drain after that and leave aside.

Methods:

Step 1: Place a wok over high heat until hot. Add some cooking oil, swirling it to coat side. Add in the chopped green onion and ginger to fry over a high heat for about 20 seconds until fragrant. Add in the soaked shrimps and winter melon shreds, and stir-fry for 2 minutes.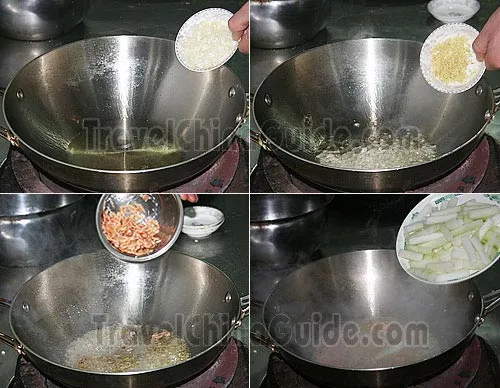 Step 2: Add the salt and pepper powder. Stir-fry for 20 seconds more until the water evaporated. Turn off the heat, and add some chicken essence (stock), and mix well.
Ladle the dish out and serve it on a fine porcelain plate.