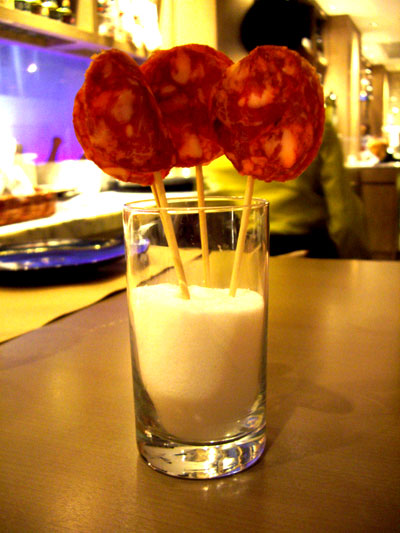 [Photo by Rebecca Lo/China Daily]
Quemo is Elite Concepts' tribute to the Catalan culture of wining and dining. The name is Spanish for burning, and refers to the many dishes where fire is the spark that leads to magical delights.
We loved the open dining-room concept of Quemo, with a long bar along the windows that let guests interact with the chef while perched on bar stools with wineglass in hand. Wooden rafters, patterned ceramic floor tiles and a cozy ambience made us feel immediately at home. At the far end was an open kitchen dominated by fire elements such as flaming burners and ovens to quickly sear olive-oil-drenched meats and vegetables.
The private dining room's floor-to-ceiling wine display signals that serious oenophiles will not be disappointed. A glance at the wine menu provided a wealth of choices with five cavas, 10 whites, 23 reds and two desserts - all from Spain and priced at HK$300-4,580 ($38-$590). But we settled for sangria to go with our feast.
We started with the whimsically named chorizo lollipops (pictured below). Sandwiching quince jelly and goat cheese and served on sticks embedded into a glass of sugar, they were like a muscular, fun version of peanut butter and jelly sandwiches.
Grilled eggplant with chimichurri was delicately smoky and tender; the salmon-colored dipping sauce rounded out any rough edges remaining in the vegetable.
Vanessa Doval, Quemo's guest-relations manager and a Bilbao native, recommended egg timbal, saying that though it shares similar ingredients with Spanish omelets, the Iberico ham, roasted piquillo and potatoes are all cooked separately. Rich egg yolk broken at our table and mixed into the ingredients oozed enticingly throughout the dish.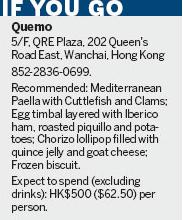 Next we decided to go for the classic Mediterranean paella with cuttlefish and clams. The Catalan style of paella is a very thin layer of rice at the bottom of the pan, with crunchy bits along its perimeter and softer grains towards the center. Every bite reminded me of the sea, as cuttlefish was cooked with the rice and its fragrance permeated the entire dish. I used the clam broth as a sauce to drizzle over the rice for added complexity.
We noticed that many diners were guzzling from an unusually shaped decanter - it looked like the university drinking games we used to indulge in. The decanter, a Spanish porron wine pitcher with a long spout to the side. It was a lively way to enjoy the vintage.
We couldn't leave without trying dessert. Though the deep-fried dumplings with ice cream were delicious and contrasted hot and cold nicely, I loved Vanessa's suggestion of frozen biscuit: a nutty blend of ice cream, biscuit crumbs and almonds that melted in my mouth. It was the perfect way to end a Spanish fiesta.