Chinese name: 松仁玉米 (sōng rén yù mǐ)

Characteristics: The pine nuts in 'Pine Nuts with Sweet Corn' taste fragrant, while the corn kernels are crispy and sweetish.

A representative dish in northeast China, Pine Nuts with Sweet Corn is good for both young and old, and is especially welcome among women. Corn is rich in vitamins and lutein which can help enhance memory and resist the aging of the outer layers of the eye and skin. Pine Nuts are rich for unsaturated fatty acids and minerals which can help strengthen the muscles and bones and are beneficial for brain and nerves.
Ingredients:
150 g fresh sweet corn kernels
50 g pine nuts
20 g celery stem
green onion
salt
white sugar
Note: the amount of the ingredients especially the seasonings listed above can be appropriately used according to one's personal taste.
Preparation:
1. Clean the corn kernels, pine nuts, and put into separate plates.
2. Clean the celery stem and green onion. Cut into diced pieces. Put into saucers.
Methods:

Step 1: Place a wok over high heat. Add in half a wok of water. Pour in the corn kernels when the water is boiling. Stir and Boil it for 2-3 minutes. Turn off the heat and drain the corn through a colander. Put into the plate again.

Step 2: Pour out the water, and place over high heat until hot. Add some cooking oil, swirling to coat all sides. Add in the diced celery and green onion, and stir-fry it for 30 seconds. Add the pine nuts and stir-fry for a furthur 30 seconds. Pour in the boiled corn kernels, and stir-fry for 2 minutes. Add some salt and white sugar. Stir-fry for 30 seconds more.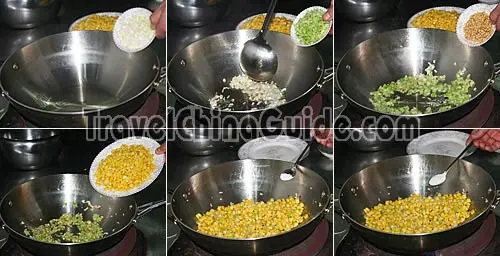 Your Pine Nuts with Sweet Corn are ready to eat. Turn off the heat and pour onto a prepared porcelain plate.