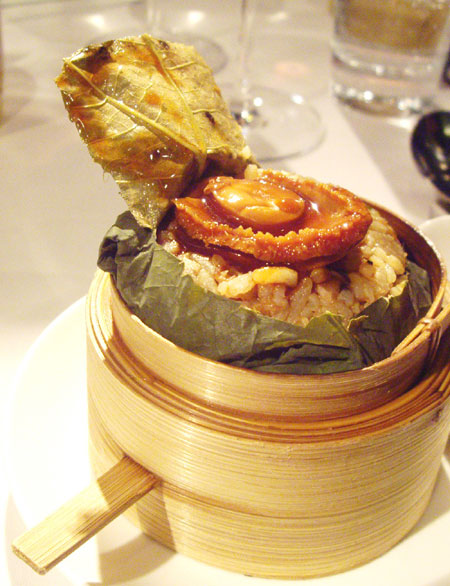 Steamed fried rice with whole Australian abalone and wild fungus served at Sing Yin restaurant in Hong Kong. Rebecca Lo / For China Daily
While no lady willingly divulges her age, the young starlet commonly known as W Hong Kong is flaunting turning 5. As part of the yearlong party, its signature Chinese restaurant Sing Yin is offering a swank five-course tasting menu that celebrates the best of East-meets-West gastronomic traditions.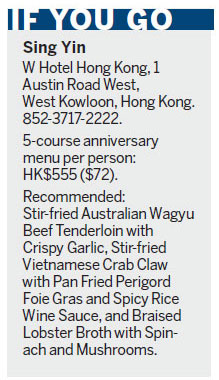 Sin Ying is designed by homegrown boy Steve Leung, who got his inspiration from parts of Hong Kong's skyscrapers, cultural artifacts and photos of its peaceful outlying islands.
A sense of anticipation is created at the main entrance, with vertical plaques of signage inspired by the seemingly random signboards found in the bustling Mong Kok district.
To get to our table, we walk through semi-private dining areas sectioned off with translucent screens that depict local scenes. It is like walking down a Hong Kong street, with order and chaos butting heads among cultural reminders such as artfully arranged birdcages.
In the main dining area, Leung turned Hong Kong's Victoria Harbor into a giant map on the carpet, with its plan reflected on the mirrored ceiling. On the other end of the restaurant, a large private dining room depicts the pastoral New Territories with artwork showcasing fishing villages.
We start the feast with a marinated South African fresh abalone in quinoa wine, decorated with a sprinkle of bright orange crab roe and served in a teeny bamboo basket. So fresh as to be practically buoyant, I loved that the abalone was very simply prepared so that nothing disturbed its purity. Marinated jellyfish strands provided a nicely seasoned contrast of savory sesame-infused oomph.
We then moved on to the beautifully presented stir-fried Vietnamese crab claw with pan-fried Perigord foie gras and spicy rice wine sauce. If ever there was a textbook East-meets-West dish, this has got to be it. Perched on a decadent slice of melting foie gras, the crab was sweetly succulent with a texture that worked surprisingly well against the soothing squishiness of the goose liver.
Continuing with the procession of seafood dishes, the soup course was braised lobster broth with spinach and mushrooms. Drops of egg white floated enticingly in the thick soup, providing rich contrast against the shredded greens and wild mushrooms.
Our main of stir-fried Australian Wagyu beef tenderloin, marble score eight, with crispy garlic was served with a side of crunchy bean sprouts. The beef was perfectly cooked - still rare and extremely tender in the center - which is no mean feat considering the size of each cube. It was again simply seasoned to let the meaty flavor shine.
We finished with steamed fried rice with whole Australian abalone and wild fungus wrapped in lotus leaf. The individual bamboo steamers were a lovely touch, and a mini marinated abalone emerging from the leaf provided the crown to a hearty crab dish.
Although I had already counted five courses and thought we were done, W Hong Kong had other plans for our bellies. No meal would be complete without a sample of Sing Yin's desserts.
We were presented with tofu in a Gianduja sauce with raspberry and a sprinkle of sesame, pan-fried chestnut cake with bird's nest and crispy egg custard dumplings with sesame. My favorite was the cool and smooth tofu with thick dollop of chocolate - it was an unusual pairing of traditional flavors and worked brilliantly.
Sing Yin's five-course anniversary dinner is available until the end of this year.