Chinese name: 宫保鸡丁 (gōng bǎo jī dīng)
Style: Sichuan(Szechuan) Cuisine
Characteristics: the chicken tastes tender and smooth, while the lettuce crisp and refreshing. It can be made either spicy or mild according to how much pimientos and chilli sauce are added, but both have unique flavors.

Popular both at home and abroad, kung pao chicken (fried diced chicken with chili sauce and peanuts) is a traditional dish of Sichuan Cuisine, mainly made of diced chicken, peanuts and lettuce. Kung pao chicken is not only a delicious dish, but it also has medical and health preserving properties, including nourishing the marrow and replenishing the essence, promoting mental health and prolonging the life and preventing hypertension and heart disease.
Ingredients:
2 boneless, skinless chicken breasts, about 100 g each
1 cup fried peanuts
half a lettuce, 50 g
half a carrot, 50 g
ginger
green onion (spring onions, scallions)
Seasonings:
salt
white sugar
pepper powder
prickly ash seeds
vinegar
soy sauce
broad bean paste
cooking wine
wet corn starch
dry chili sections
red chili oil, optional
monosodium glutamate
Note: the amount of the seasonings listed above can be appropriately used according to one's personal taste.
Preparation Work:
A. Peel the lettuce with a peeling knife, cut the chicken, lettuce and carrot into diced pieces and cut the gree onion and ginger into chopped pieces.

B. Put the diced chicken into a bowl and process it: add in salt, pepper powder, cooking wine, monosodium glutamate, chicken extract, egg white, vinegar, starch and oil, and stir well in the same direction until you feel it is a bit sticky with chopsticks.

C. You have to get ready for the wet cornstarch mixed with salt, sugar, monosodium glutamate and pepper powder.
Methods:

Step 1: Place a wok over high heat until hot. Add some coooking oil, swirling to coat sides. Add in the prickly ash seeds to be fried by big fire for 20 seconds and pick them out of the wok through a colander. Next, pour in the chopped ginger and green onion, dry chili sections and the broad bean paste, stir fry the seasonings until fragrant, about 30 seconds.


Step 2: Pour in the processed diced chicken, stir fried it for about 3 minutes by big fire until it turns white and is 80 percent cooked and pour in the wet starch we prepared in preparation work C.


Step 3: Pour in the diced carrot and lettuce and continue stirring for 1 minute by big fire, pour in the wet cornstarch and stir all the materials in the wok until they are mixed for about 30 seconds.


Step 4: After the wet cornstarch is nearly dry up in the wok (about a minute after poured in), pour in the fried peanuts (you may also add some red chili oil,if you like spicy food), turn into small fire, and stir it together with the others for about 30 seconds.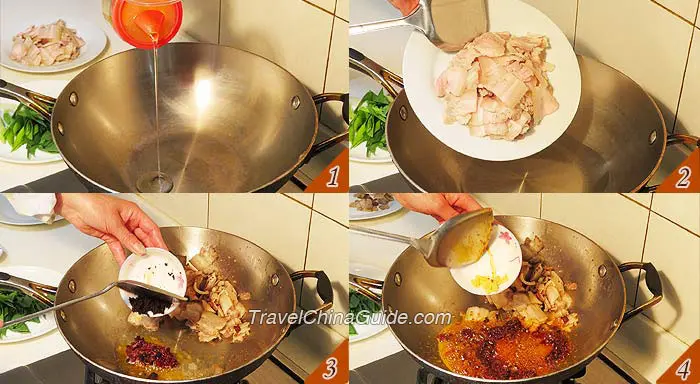 Step 5: Now, turn off the fire, find a fine porcelain plate, the delicious kung pao chicken can be picked out of the wok.

This is your masterpiece, good in color, smell, taste and appearance.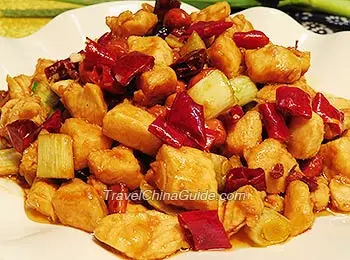 Story about Kung Pao Chicken
Legend among the Chinese folk has it that Ding Baozhen of the Qing Dynasty (1644 - 1911) loved eating dishes made of chili, pork and chicken. He was a jinshi (third-degree scholar) in the beginning and was assigned as the provincial governor of Shandong Province and later the governor-general of Sichuan Province later. It's said that he often let his cook make diced chicken with soy sauce when he was in Shandong, but the dish was not popular then. After transferring to Sichuan, he often ordered his cook to make the dish with peanuts, chili and young chicken to treat his guests. Gradually, more and more people fell in love with the delicious dish. Thereafter, he was created 'Tai Zi Shao Bao' (junior guardian of the prince) and was also dubbed as 'Ding Gong Bao' (palace guardian). Thus, the diced chicken his cook cooked was named kung pao chicken.

The other legend said that kung pao chicken originated from Zuo Zongtang, another provincial governor of the Qing Dynasty, who also liked to eat diced chicken matched with peanuts and lettuce. While in the Qing Dynasty, provincial governor was also named 'Gong Bao' or 'Shao Bao', so the dish he loved was given the mane kung pao chicken.



Our Guests Enroll in the Cooking Class:

On Jun. 8, 2010, Ms. Linda Gene Jantzen & Ms. Jennifer Daryl Slack joined our family tour during their visit to Xian, and learned to cook Kung Pao Chicken in a typical local family. They had a good time during the visit with meal and wrote in their feedback:"...Sometimes there was too much food, often actually. But when asked, that was adjusted for us. My favorite meal was the one in the home we visited in Xi'an. I would recommend that meal to anyone!..." See details at Ms. Linda's feedback

On Sep. 23, 2010, Ms. Sally Diane Szanik & Mr. Richard Szanik paid a visit to a local family in Xian under the arrangement by TravelChinaGuide, and learned to cook Kung Pao Chicken there. They enjoyed the meal very much and recommended it in their feedback:"... Having the family visit and helping cook lunch was fun and the food delicious...." See details at Ms. Sally's feedback