Chinese name: 盐煎肉 (yán jiān ròu)

Style: Sichuan(Szechuan) Cuisine

Characteristics: Fried Pork with Salted Pepper is bright in color and tastes salty, fresh and a little bit hot. The pork slices are crispy and delicious.

As a representative of the home-style dishes in Sichuan cuisine, Fried Pork with Salted Pepper is considered a sister dish to

Twice Cooked Pork

because of their similar ingredients, taste and appearance. In fact, Fried Pork with Salted Pepper is simpler to cook. However, the pork in this didh has more of a pork taste.
Ingredients:
thin pork, 250 g
garlic sprouts, 50 g
cooking wine
chicken essence (chicken stock/bouillon)
lobster sauce particles
broad bean paste
Note: the amount of the ingredients especially the seasonings listed above can be appropriately used according to one's personal taste.
Preparation:
1. Wash the garlic sprouts. Beat the white stems gently on a chopping board with a kitchen knife until you can smell the garlic. Cut into 3 cm long sections. Put on a plate.
2. Wash the pork and cut into thin slices, 2 cm x 4 cm, and put on a plate.
3. Chop the dry lobster sauce finely and put on a plate.
Methods:

Step 1: Place a wok over high heat until hot. Add some coooking oil and swirling to coat all sides. Stir-fry the pork slices for 2-3 minutes until turn yellowish white. Add broad bean paste and lobster sauce particles and stir-fry for 30 seconds. Add the cooking wine and stir-fry for another 30 seconds.


Step 2: Add the garlic sprouts and stir-fry for 2 minutes until they shrink. Add the chicken essence (bouillon, stock) or monosodium glutamate and stir-fry for 10 seconds.

Fried Pork with Salted Pepper is now cooked and ready to be arranged on a porcelain plate.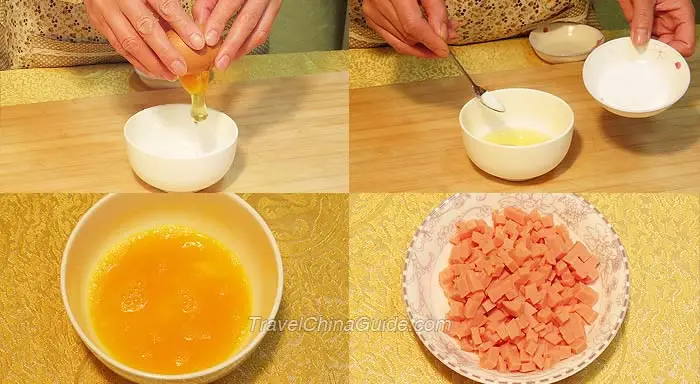 Tips: Sweet peppers can also be used instead of the garlic sprouts.

Our Guests Enroll in the Cooking Class:
On July 3, 2010, Mr.Javier Jimenez & Ms.Veronica Lorraine Jimenez paid a visit to a typical local family in Xian under the arrangement by Travelchinaguide. When they arrived, the hostess had prepared more than enough to welcome the visitors from far away, including fruits, candies, drinks as well as cooking materials. The virtuous hostess also taught Ms.Veronica to learn to cook her specialty dish Fried Pork with Salted Pepper step by step. See details at Mr. Javier's feedback