Chinese name: 馄饨 (hún tún)

Characteristics: The wrapper of the wonton is thin and tastes soft and smooth, the filling is rather fresh, and the soup is clear and tasty.

Originating in northern China, wonton is a traditional food in China. In ancient times, Chinese people regarded it as a kind of sealed meat bun without any opening and named it 'Hun Dun' (chaos). At that time, a wonton is the same as a dumpling. Since then, the dumpling hasn't been changed too much, but the wonton has been developed a lot in southern China, having its own style.
Ingredients:
chopped lean pork, 150 g
wrappers (made of flour), 150 g
dried small shrimps
salt
chicken essence (bouillon/stock) or monosodium glutamate
cooking wine
sesame oil
chopped ginger
chopped green onion
Note: the amount of the ingredients especially the seasonings listed above can be appropriately used according to one's personal taste.
Methods:

Step 1: Place the chopped lean pork into a bowl. Add in some cooking wine, chopped ginger, chopped green onion, salt and chicken essence. Stir it well with chopsticks or a teaspoon.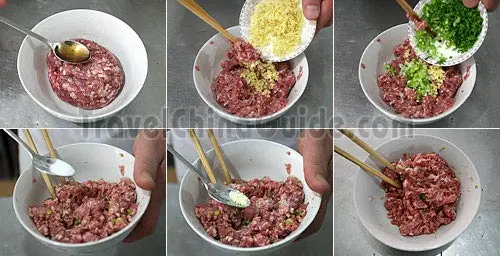 Step 2: Take one piece of wrapper, and smooth it in one hand. Pick some of the fillings, and put at the corner of the wrapper (the filling should be less than that of the dumplings). Roll it up and pinch the two sides together. The result is a hat-like wonton.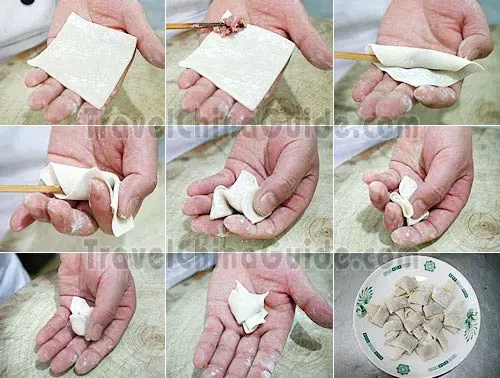 Step 3: Place a wok over high heat. Add in half a wok of water. Add the wontons one by one till the water is boiling. Add in 1/4 table spoon of water when it boils. Repeat this twice. Turn off the heat. Scoop out 1 tablespoon of soup and pour in to a soup bowl. Pick out the boiled wontons with a table spoon or a colander and add to the bowl.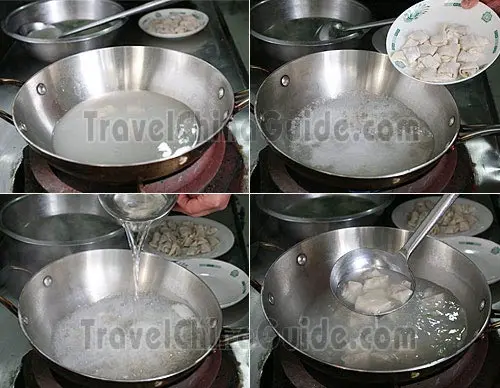 Step 4: Add in salt, chicken essence, chopped green onion, sesame oil and dried small shrimps. Stir slowly and thoroughly with the teaspoon.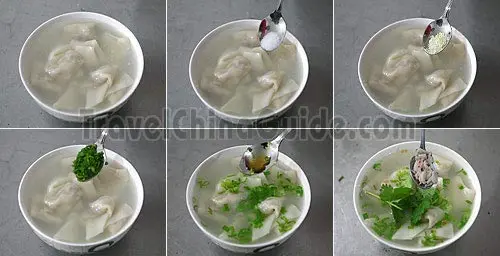 A bowl of tasty and fresh wontons is now ready for you to enjoy.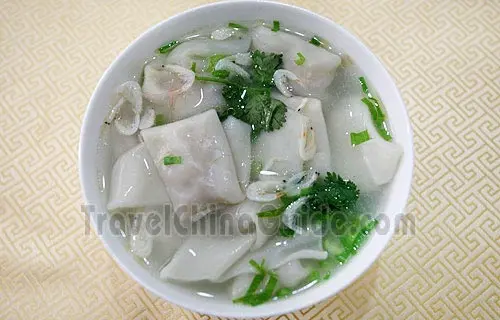 Tips: The fillings of wonton can be varied, either meat (pork, mutton, beef, chicken, shrimp), or vegetable (carrot, preserved vegetable, celery, cabbage, mushroom, leek), or meat with vegetable. The wontons can be made into various shapes, such as round, tube, semi-cylinder, rectangular, triangle or gold ingot.
Origin of Wonton
Story has it that in the
Han Dynasty
(206BC-220), the Huns in northern China often invaded the northern border of the country where the people were always tormented. At that time, the Huns had two leaders named 'Hun' and 'Dun', both of whom were cruel. The northern Chinese hated them bitterly, so they wrapped dumplings filled with meat, named them 'hun dun', and cooked and ate them in the hope of having a peaceful life.

Our Guests Enroll in the Cooking Class:

On July 2, 2010, Ms. Rohini Charlotte Gunasinghe, Mr. Punu Upul Gunasinghe & Mr. Dasun Nadika Gunasinghe made a tailor-made family tour by Travelchinaguide in Xian, and learned to cook Chinese Wonton and Chinese Dumplings in the field. The special experience highlighted their China tour and left them good memories.

On Jun. 2, 2011, Mr. Robert Emanuel Padjen, Ms. Kristie Renee Padje & Ms. Jeanne Susan Mann had a private family visit to a Xian family because of great interest in Chinese people's daily life. They also had an memorable experience of having a home-cooked a lunch with the family they visited. What impressed them more was that they had learned to cook Chinese Wonton & Cola Chicken Wings from the hostess.