Chaozhou Cuisine (Chaozhou cai) is one of the three branches of Guangdong Cuisine. And it has some similarities with Guangdong Cuisine, such as its light and fresh flavor. The history of Chaozhou cai can be traced back to Qin Dynasty (221BC-206BC). After thousands of years' development, Chaozhou cuisine has its own characteristics: seafood is an essential part and special dish of Chaozhou Cuisine. All the dishes as well as the soups retain the original feature of the raw ingredients; and the food is cooked in a natural way to preserve people's health; many kinds of sauces accompany the meals.

Restaurants of Chaozhou Cuisine

Chaofugong Restaurant
Chinese name: 潮富宫食府(cháo fú gōng shí fǔ)
Average Cost per Person: CNY300
Hours: 11:00 - 22:00
Location: 2/F (West), Cuigong Restaurant, No.76, Zhichun Lu, Shuangyushu, Haidian District
Bus Route: 304, 323, 386, 725, 735, 804, 826, 835, 941, 944 (get off at Zhichun Lu Stop)

Chaoshan Restaurant
Chinese name: 潮汕小馆(cháo shàn xiǎo guǎn)
The restaurant prepares many Chaozhou cai for your to choose, including Chaoshan Snacks, Family Dishes, casserole and porridges of many kinds.
Recommended Dishes: Barbeque Sauce, Steamed Cucumber
Location: 1/F, Wangzuo Center, Guandnogdian Nanjie, Chaoyang District

Shui Tian Hakka Restaurant
Chinese name: 水田客家菜(shuǐ tián kè jiā cài)
Average Cost per Person: CNY30
Recommended Dishes: Beef Balls, Kejia Big Dish
Location: No.12 B, Deshengmenwai Dajie, Haidian District

Chaofu Restaurant
Chinese name: 潮福大酒楼(cháo fǔ dà jiǔ lóu)
Average Cost per Person: CNY80-CNY120
Recommended Dishes: Buddha Jumping over the Wall
Hours: 10:30 - 14:30 17:30 - 23:30
Location: No.16, Dongsanhua Beilu, Chaoyang District

Chao Du Cheng Restaurant
Chinese name: 潮都城餐厅(cháo dū chéng cān tīng)
Average Cost per Person: CNY100
Recommended Dishes: Pot-stewed Goose
Hours: 10:00 - 20:00
Location: 1/F (West), Qianmen Jianguo Hotel, No.175, Yongan Lu, Xuanwu District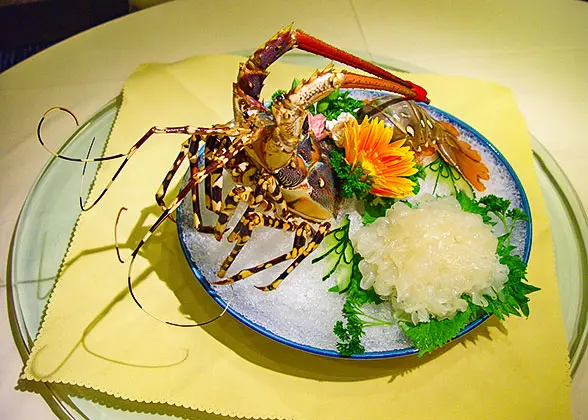 Chao Fu Cheng Restaurant
Chinese name: 潮福城大酒楼(cháo fú chéng dà jǐu lóu)
Average Cost per Person: CNY80
Recommended Dishes: Chaozhou Freezed Crab
Hours: 10:00 - 23:00
Location: No.108 A, Jianguo Lu, Chaoyang District
Bus Route: 1, 4, 9, 37, 728, 928 (get off at Dabeiyao Stop)

Guang Li Yuan Hotel
Chinese name: 广利源酒店(guǎng lì yuán jǐu diàn)
Average Cost per Person: CNY50-CNY100
Recommended Dishes: Steamed Lobster
Hours: 10:00 - 22:00
Location: No.5, Nanbinhe Lu, Guanganmenwai, Xuanwu District
Bus Route: 49, 122, 716, 53 (get off at Guanganmennan Stop)

Gui Xin Yuan Restaurant
Chinese name: 桂鑫源酒楼(guì xīn yuán jǐu lóu)
Average Cost per Person: CNY30
Recommended Dishes: Stewed Griskin Eaten with Hand
Hours: 10:30 - 14:00 16:30 - 20:30
Location: No.1, Maliandao, Xuanwu District
Bus Route: 609, 46, 708 (get off at Maliandao Hutong Stop)

Xindaqiang Chaoshan Restaurant
Chinese name: 新大强潮汕食府(xīn dà qiáng cháo shàn shí fǔ)
Average Cost per Person: CNY50
Recommended Dishes: Seafood Hot Pot
Location: No.15, Jiaodaokou Nandajie, Dongcheng District
Bus Route: 104, 107, 108, 124, 113 (get off at Gongjiaoche Daokou Stop)

Chao Xiang Restaurant
Chinese name: 潮湘宫(cháo xiāng gōng)
Average Cost per Person: CNY50
Recommended Dishes: Marinated Jelly Fish Head in Black Vinegar, Sir-fried Bullfrog with Green Pepper
Location: No.11, Guangming Lu, Chongwen District