Chinese name: 芹菜炒豆干 (qín cài chǎo dòu gàn)

Characteristics: Celery and Dry Bean Curd tastes mild, tender and crispy.

One of the home-style dishes in China, Celery and Dry Bean Curd is a delicious vegetable dish because of the fragrant celery. This dish might seem unattractive, but it is indeed very nutritious. Celery contains rich carotene, protein and multiple vitamins, while the dry bean curd in it is also rich in protein, carbohydrate and multiple minerals.
Ingredients:
2 pieces dry bean curd, 100 g
celery stem, 80 g
2 fresh red chili
salt
sesame oil

pepper powder
Note: the amount of the ingredients especially the seasonings listed above can be appropriately used according to one's personal taste.
Preparation:
1. Split the celery stems into sections. Wash the celery and then cut into strips. Place on a plate.
2. Wash the dry bean curd and then cut into strips. Put into a separate plate.

3. Cut the red chili in the middle into halves, remove the seeds. Wash them well, cut into shreds again and put on a plate.
Methods:

Step 1: Place a wok over high heat until hot. Add some cooking oil, swirling to coat all sides. Add in red chili shreds, and stir-fry for about 10 seconds. Then add celery and dry bean curd strips. Stir-fry for 3-4 minutes when it is 90% cooked.

Step 2: Add the salt, pepper powder and sesame oil. Stir-fry for another 10 seconds. Turn off the heat.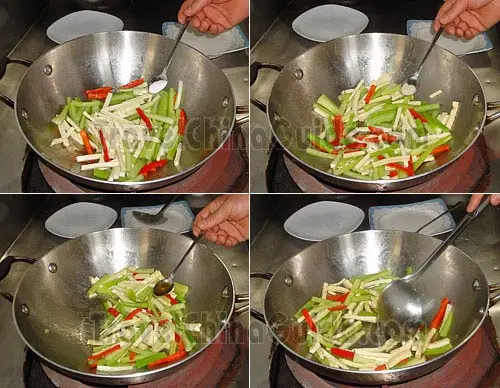 Remove the celery and dry bean curd from the wok, and arrange on a porcelain plate.

Tips: If you are a tofu lover, you can also try Home-style Tofu or Mapo Tofu