Chinese name: 京葱爆牛肉 (jīng cōng bào niú ròu)
Style: Fujian Cuisine
Characteristics: Braised Beef Filet with Scallion is rich and fragrant. The beef tastes smooth and tender, while the savory aroma of the scallion will lead one's appetite.

Beef is rich in protein and amino acids, while scallion is a good dressing for health preserving, and is appropriate for cooking with all kinds of meat to enhance the flavor. The combination of braised beef filet with scallion has a satisfying taste that is fragrant, with the overtone of the appetizing aroma of the scallion.
Ingredients:
4-5 scallion (green onion) stalks
beef fillet, 200 g
1 fresh red chili

Preparation:
A. Clean the beef fillet, and cut it into small thin slices. Place into a plate.
B. Wash the scallion stalks, and cut into sections. Place into a plate.
C. Wash the fresh red chili, and cut into triangular or diamond-shaped cubes. Place into a plate.
Meanwhile, prepare 2-3 teaspoons of wet corn starch with cornstarch and water.
Seasonings:
ginger slices
garlic slices
salt
cooking wine
soy sauce
wet corn starch (made of cornstarch and water)
white sugar
Note: the amount of the seasonings listed above can be appropriately used according to one's personal taste.
Methods:

Step 1: Marinate the beef with cooking wine, soy sauce and white sugar. Stir it with a spatula or chopsticks until well mixed. Let it stand for 10-15 minutes.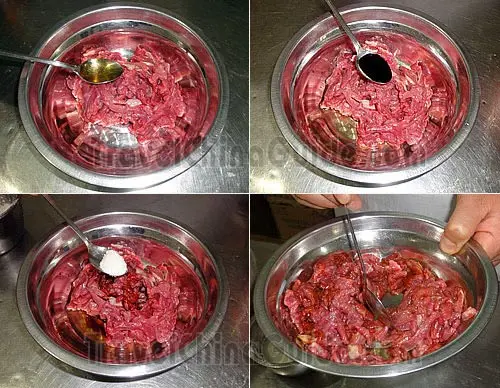 Step 2: Place a wok over high heat until hot. Add some cooking oil, and add in the marinated beef fillet slices, and fry for about 2 minutes to brown them and seal in the juices. Remove from the wok and set aside.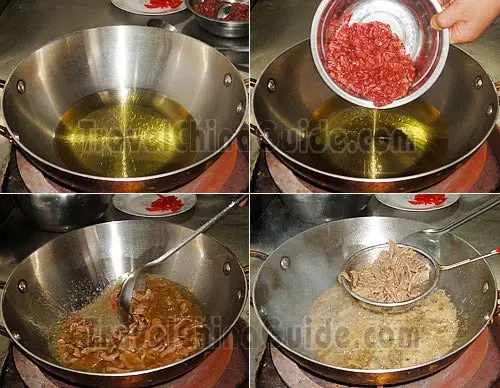 Step 3: Add some cooking oil to the wok again, and swirl it around to coat the sides. Add in the ginger and garlic slices, red chili cubes, and scallion sections. Stir-fry over high heat for about 30 seconds until fragrant.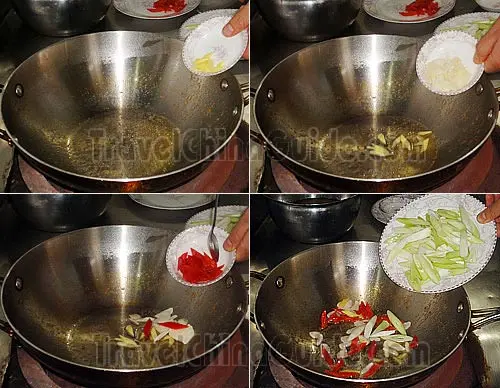 Step 4: Add in some salt, white sugar, soy sauce and wet cornstarch. Stir-fry for 30 seconds. Add in the fried beef fillet slices, and stir-fry for 2-3 minutes. Turn off the heat.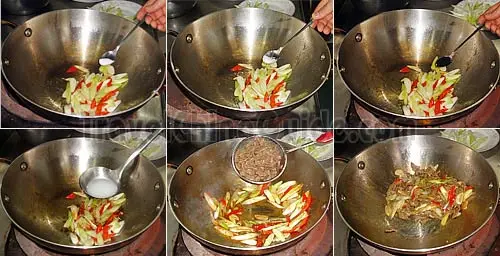 Remove it from the wok and serve on a plate. Braised Beef Filet with Scallion is ready.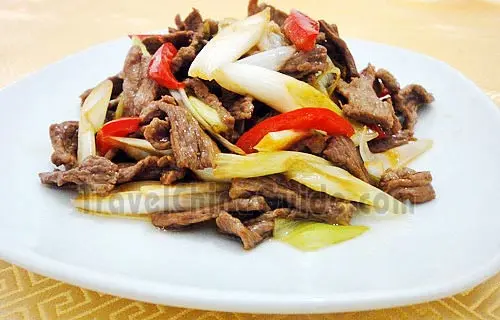 Our Guests Enroll in the Cooking Class:
On Sep. 21, 2010, Mr. Razvan Adrian Toparcean, Mr. Vasile Dan Gorgan & Mr. Victor Adrian Schiopu had a memorable experience to make a private visit to a local Xian family especially chosen by Travelchinaguide. They also had the chance to learn to cook a popular Chinese dish - Braised Beef Fillet with Scallion from the hostess of the family on site.