Chinese name: 上汤娃娃菜 (shàng tāng wá wá cài)

Characteristic: Braised Baby Cabbage in Broth tastes fresh, silky and mouth-filling.

Braised Baby Cabbage is normally prepared with baby cabbage and preserved egg. Baby cabbage is specially grown in the mountains of Yunnan and it has high vitamin contents. It is best to be cooked in broth with preserved egg, red date and wolfberry. Eating this dish helps to nourish the stomach and relieve internal heat.
Ingredients:
baby cabbage 250g
1 preserved egg
1 green pepper
1 bowl chicken broth
chopped green onion
garlic slices
cornstarch mixed with a little water
Note: the amount of the ingredients use, especially the seasonings listed above can be varied according to personal taste.
Preparation:
A. Wash and cut the baby cabbage into quarters. Put aside.
B. Wash and cut open the green pepper, discarding the seeds. Then cut into small cubes and put aside.
C. Wash the preserved egg after breaking the shell, and dice it.
Methods:

Step 1: Heat up the wok over high heat. Add in a little cooking oil and heat it up. Add in the garlic slices and stir-fry for about 5 seconds till fragrant. Pour in the chicken broth and bring it to boil. Add the baby cabbage quarters and preserved eggs dices and boil for 2-3 minutes until the cabbage quarters turn soft. Turn to low heat and dish out the cabbage quarters into a serving soup bowl.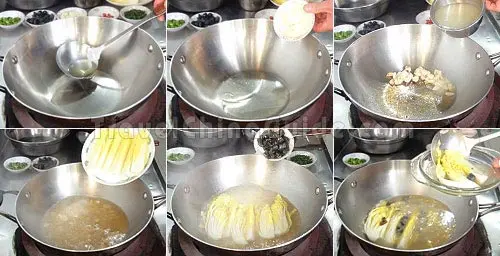 Step 2: Turn to high heat, add the green pepper cubes and boil for 1 minute. Add salt to taste and thicken the broth with cornstarch. Turn off the heat and pour the thicken broth over the cabbage quarters. Finally, sprinkle some chopped green onion before serving.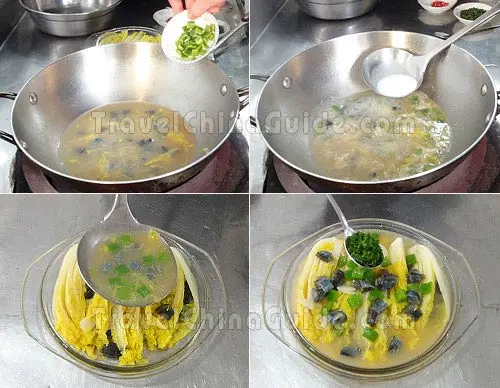 Braised Baby Cabbage in Broth is cooked